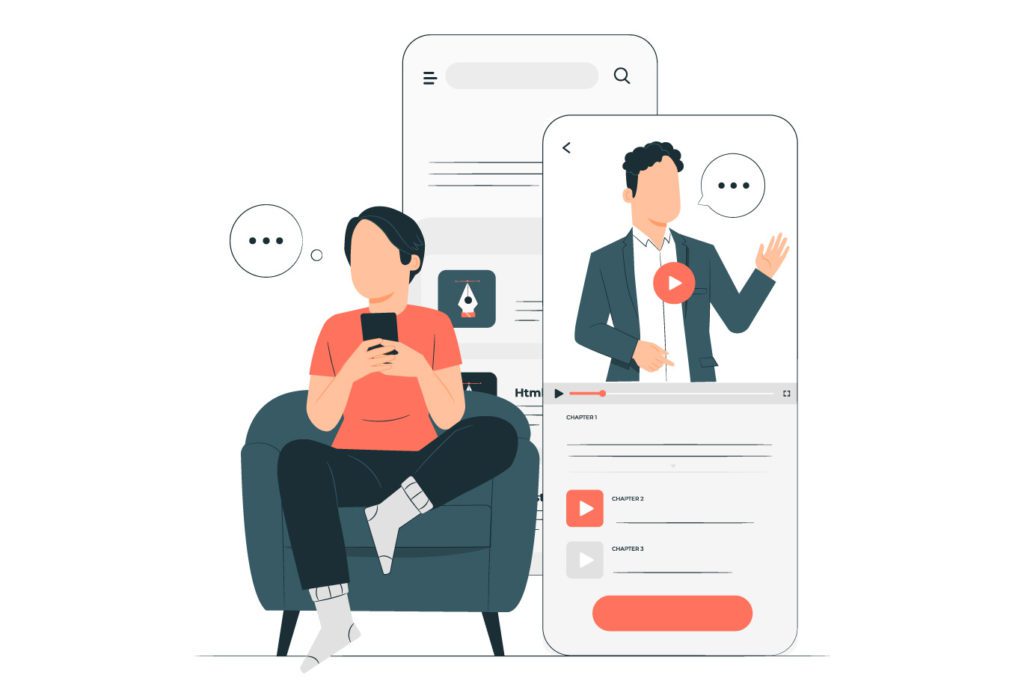 Being able to influence and shape the future generation makes teaching one of the most significant professions in the world. Teachers have important roles to play in the lives of the next-generation leaders, decision-makers, problem solvers, and whatnot. Thus it is essential to empower every teacher and help them make the teaching and learning experience a cakewalk. Let us know how you can grow your online coaching business with the best app for teaching, the Classplus app, to become a successful online tutor.
The Journey!
Classplus was born in 2018 to empower every teacher and simplify the classroom management process for tutoring firms, coaching centers, etc. The co-founders, Mukul Rustagi and Bhaswat Agarwal met in a coaching class for their IIT preparation in the year 2007.
That's where the vision for their startup roots from the experiences they had at a coaching institute and decided to bring the coaching classes to the digital platform.
Classplus, one of the most spectacular ed-tech startups, has changed how coaching centers and tutors run their classrooms, allowing you to grow your operations, enhance student outcomes and grow your online coaching business with Classplus.
Also read: Popular Ways to Grow Your Online Teaching Business
What is Classplus?
What is Classplus? Classplus app for teaching, has become a vital platform for tutors and coaching centers in India and elsewhere. It enables teachers to expand their coaching business, boost their income 10X, and improve students' learning outcomes. 
Teachers or content creators can get their online classes app developed by Classplus for smooth and effective classroom experience. where they can run their online classes with the help of this app.
Teachers have full authority over their education app, and their name registers it. Keeping track of attendance, parent-teacher contact, online assessments, fee payments, and other things enables teachers to develop an accessible app for teaching.
The integrated analytics dashboard on the app provides all the online teaching resources that enables tutors to manage various batches, analyze attendance, and keep tabs on student progress, which streamlines fee collecting and monitoring.
The platform also has a built-in payment system, allowing tutors and institutes to efficiently collect money and monitor transactions.
Teachers can manage different batches, evaluate attendance, and analyze student development using the integrated analytics dashboard on their very own teaching app created by Classplus.
How Can You Grow With The Classplus App For Teaching?
Are you a teacher/tutor?
Or a content creator?
Are you a YouTuber?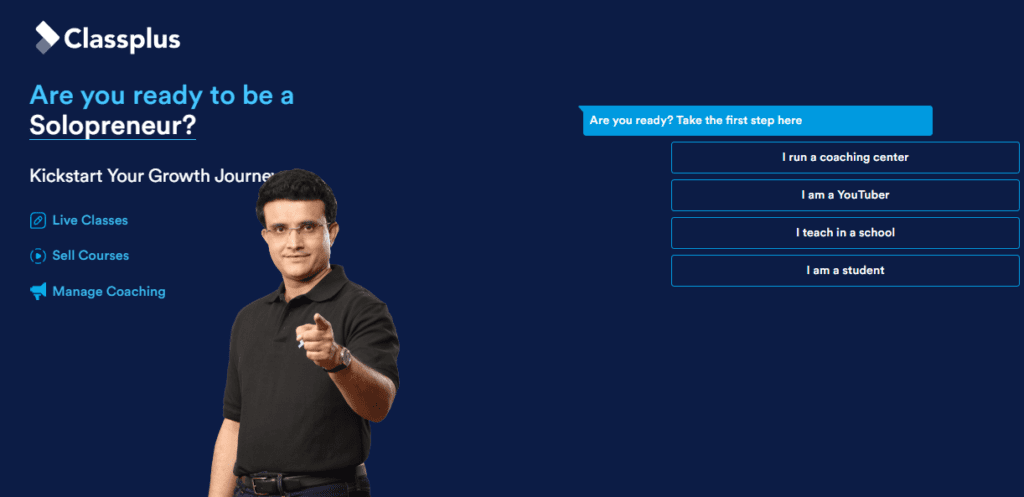 Don't worry, we have got solutions for all!
Online teaching is not just about giving notes and taking classes, but a full fledged system that can make teaching and learning experience fun and easy for both teachers and students.
All of us have faced issues with the new form of teaching that is online teaching. But we have got solutions for all your online education related problems. With the Classplus online teaching app, the best app for teaching, you can teach online and earn money. 
With over 1 Lakh+ educators/content creators/YouTubers onboard with us, we have helped them grow their coaching business.
How?
Take FREE demo with our growth experts
Tell us about your requirements
Get an online classes app with the name of your choice
Now you are officially a part of Classplus, the best app for teaching!
Once you are a part of the Classplus family, we make sure that all your online coaching related issues are resolved for which we provide you with growth managers who keep in touch with you to resolve any issues in future.
Connect now and get a FREE demo and growth session with our growth experts to know how you can grow your online coaching business with best app for teaching: Classplus app.
—————-Click here to see the success stories of our Classplus educators——————
What Does Classplus Online Teaching App Offer?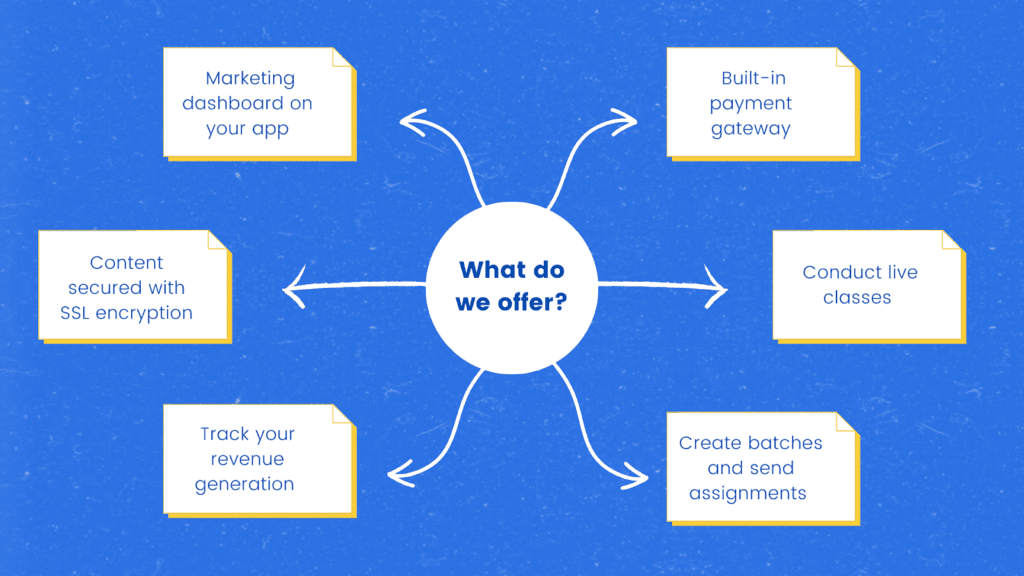 Classplus is known for the exclusive features that it offers to its users. With Classplus, you can take your teaching experience to the next level. Teachers can teach online and earn money with the Classplus online teaching app.
On your online teaching app, you can manage your entire coaching with the help of the following features:
Take unlimited live sessions with your students through your coaching app. Clear their doubts, broadcast announcements, etc.
Monitor your monthly earnings on your app and calculate your potential income.
Create batches and send assignments
You can easily manage all your batches and communicate with your students. Teachers can share their different collections separately. Take tests and assign tasks to your students.
Collecting fees is made easier on your app with zero commission, and you get it credited directly to your account. Teachers can effectively collect money and keep track of all the transactions.
You can customize your promotional posters through your education app or Classplus Lite app and share them anywhere.
Your course material is encrypted to provide maximum security. It is so secure that you don't have to worry about content piracy.
Due to these qualities and features, Classplus has achieved high rankings thanks to its user-friendly layout and customer assistance.
Conclusion
By 2020, the education system in the country had evolved and welcomed the technology. Online learning has stood out because of its easy availability and convenience. Today, teachers and students are more comfortable with this type of learning experience.
But many coaching classes had mostly resisted it and faced issues. Here is when the idea of Classplus was brought into the picture. With the Classplus app for teaching, online educators can easily teach online and earn money by managing their online coaching businesses and digitally delivering personalized lessons to students. 
You can also get a Classplus online teaching app and start generating 10X revenue through your online coaching business. Want to know how? Connect with us and take a FREE demo with our growth experts now!
The Best App For Teaching Online FAQs
Q1. How to start online coaching classes?
A1. To begin with online coaching classes start identifying your audience, select a niche, get your app or create a website, record your lectures, get hands on good online teaching resources etc.
Q2. Which is the best online teaching app?
A2. The best online teaching apps are Classplus, Zoom, Schoology, Google Meet etc.
Q3. How to become an online tutor with Classplus online teaching app?
A3. To become a successful online tutor, it is important for you to identify your area of expertise, research about the requirements to become a good online teacher, choose a niche, create engaging lessons etc. 
Q4. Is online teaching and learning better than offline teaching?
A4. Online teaching has many benefits over offline teaching such as flexibility, easy communication, time management, affordability etc. 
Q5. How can you teach and earn money through online coaching classes?
A5. You can build and sell online courses, provide online tutoring or coaching services, or work as an online instructor for already established e-learning platforms if you want to teach and make money online.