A good teacher is someone a student will remember and treasure for the rest of their lives. But what exactly are the qualities of effective teachers? When addressing this query, there are numerous factors to take into account. The top 10 effective teachers' most crucial qualities for effective instruction and building a solid student-teacher relationship are listed below.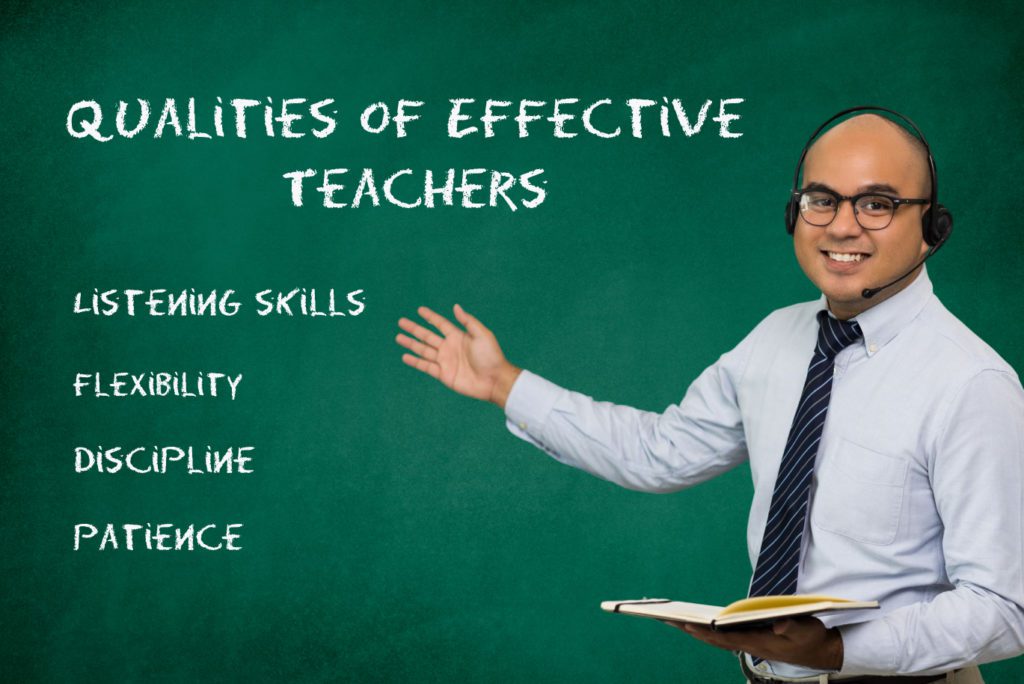 Communication skills
One of the most important qualities of a good teacher is effective communication. Being able to communicate effectively is a crucial skill to have in both private and professional settings. It is the foundation of fulfilling and enduring partnerships. Strong communication abilities are one of the most necessary traits of a good teacher and are important to establish rapport with their students.
The goal of education requires effective communication abilities. Teachers who can effectively express verbal, written, visual, and body language clues and transform concepts into structures that students can grasp will impart knowledge with better results.
Listening skills
One of the qualities of a good teacher is having the ability to understand your students. This helps you know what works and what doesn't when it comes to teaching for individual students and your class as a whole. One of the most necessary traits of a good teacher is understanding that every pupil is different.
A teacher can further enhance her teaching skills by posing probing questions and paying close attention to what they have to say. Teachers may build a stronger, healthier, and higher-quality learning environment with excellent listening skills.
Suggested – Qualities Of A Bilingual Teacher
Patience
One of the many characteristics of a good teacher is patience. Being a teacher and managing several students at once is a difficult job requiring patience. Different kids will exhibit varying degrees of aptitude when it comes to learning. It is important to consider this because doing so will assist students in catching up and improving the educational environment. Being patient and kind with kids and colleagues are necessary attributes of a good teacher.
Friendliness
One of the most crucial characteristics of a good teacher is friendliness. You become more approachable when you show your students that you are friendly. You have a higher chance of inspiring students to desire to learn when you follow these attributes of a good teacher. In addition, the ability to be friendlier will encourage students to ask questions. This will improve communication between students and teachers and improve the learning environment. The finest teachers are typically approachable, kind, and friendly.
Organization skills
The personal qualities of a teacher include planning and execution. Being well-organized is one of the crucial qualities of a teacher and one of their most important traits. A teacher could easily lose track of due dates, expectations, and work if they lack organizational abilities. After their session, most teachers typically take notes with important items to remember for their next class. A good teacher may readily prepare the necessary content for the subsequent lesson this way and will also be aware of exactly what is left off in their to-do list.

Discipline
To truly understand what makes a good teacher, one must consider discipline in great detail. A teacher with strong disciplining techniques will effectively promote positive classroom behaviors. Therefore, maintaining classroom discipline and a positive environment are essential skills of a good teacher. By expressing and upholding a list of learning criteria for the classroom, teachers can achieve this.
Suggested – What Makes a Good Online Teacher
Subject matter expert
One may not possess any other skills of a good teacher. However, they are expected to be the foremost authority on the subject they teach. Therefore, you do need to have a solid grasp of the subject. In addition, students will ask you questions. Thus it is great if you are prepared with the responses! The least you can do if you don't know the answer is to be able to tell the kids where they can look.
Flexibility
The pace of information interchange, the world, and the classroom constantly change. Therefore, one of the most important characteristics of an effective teacher is flexibility. To link formal education with life skills, they are skilled at incorporating elements and experiences from outside the classroom and bringing them inside a student's grasp and understanding. A flexible teacher also exemplifies for students how to maintain composure and adaptability in the face of unforeseen circumstances.
Passion
Various factors influence people's decision to enter the field of teaching. However, one of an effective teacher's most important characteristics is passion. Passionate teachers spend more time outside the classroom coming up with ideas for their pupils, staying late after school to ensure they get the assistance they need, and providing extensive feedback rather than simply checking boxes for grades.
Tech-skills
As technology advances, the educational landscape is changing. Smart Boards are taking the place of blackboards in classrooms, and in-person education is being substituted with online learning. A teacher needs to make an effort to stay updated with trends and be open to incorporating them into their classroom if they want to sharpen their teaching skills.
The Final Word

The foundation of effective education is virtues and ideals. No one can ever create a complete list of the qualities of effective teachers. The qualities as mentioned above are an honest effort to give you a comprehensive list of the characteristics of an effective teacher. The good news is that you can learn them if you lack any of these traits.
The team at Classplus can help you build your online coaching business. Give wings to your passion for teaching by getting your own app. With this all-in-one solution, you can manage live courses, engage in real-time student-teacher interaction, automatically mark attendance, and more. To know more, connect with us and talk to our experts now!