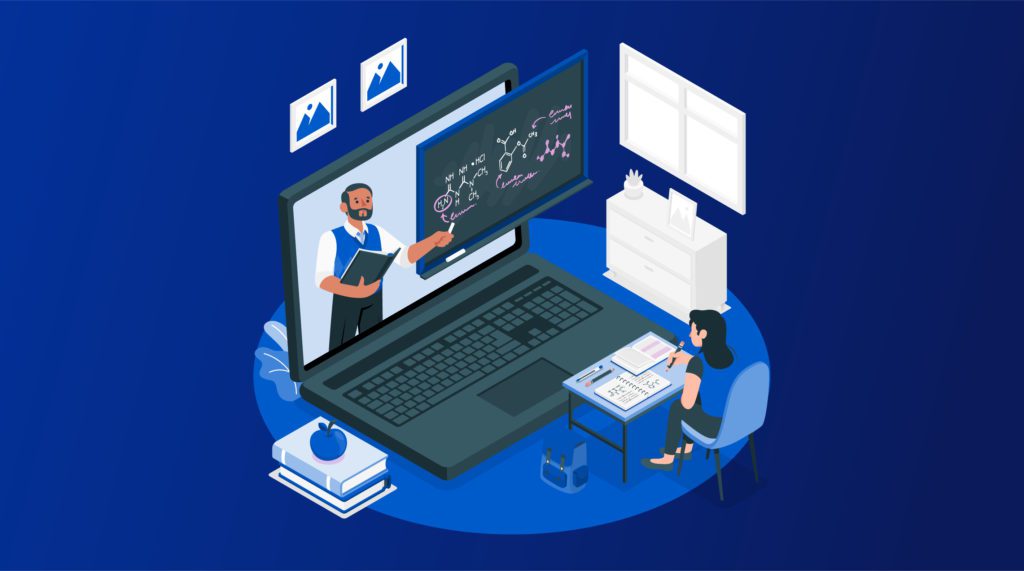 Online education has become the new frontier for educators in the era of technology. There has never been a better time for teachers to embrace the benefits of online teaching, with the globe evolving towards distant learning. Online teaching is a very flexible, easy and cost effective way to teach your students. But still the question remains the same, why choose online teaching?
What if we told you that with a dedicated online teaching app, you could take your online teaching to the next level? That's correct, the appropriate software can help you expedite your teaching process, engage students in real-time, and provide a personalized learning experience like never before.
In this blog post, we have covered the top reasons on why choose online teaching. We'll look at the top reasons why teachers should consider online teaching and get their teaching app to earn money.
Top Reasons for Teachers to Choose Online Teaching
1: Flexibility and Convenience 
When you ask why choose online teaching the first and the foremost reason is that it is more flexible and convenient than traditional classroom teaching. Students have the flexibility to use educational content from anywhere at any time. Teachers can also share important instructions and information whenever they want.
Teachers and students have the flexibility to share and use information anywhere anytime
It helps in reducing the requirement to take classes physically
Educators can teach at their own pace thereby helping students to learn at their own pace
Online learning offers greater teaching customisations
You ca use multimedia tools and resources to make learning more interactive and fun for your students
2: Professional Development Opportunities
Online teaching can give educators several professional development options, including the opportunity to obtain knowledge in new technologies, develop digital content creation skills, and establish a personal brand as an online instructor. If you again ask why choose online teaching so to add on, online teaching allows educators to develop a personal brand as an online instructor.
By developing engaging and effective content for students, educators can hone their digital content development skills.
As an online instructor, you have the potential to develop your own brand and establish yourself as a thought leader in your industry.
Professional development possibilities benefit instructors' future careers and teaching abilities.
Educators can position themselves as thought leaders in their profession and get recognition for their work by building a strong online presence and sharing their expertise with a wider audience.
All this can be done easily. How? Connect with Classplus and know how you can get your own coaching app and build a strong online presence. Get a FREE demo with our growth experts to know more about it.
3: Cost effectiveness
Why choose online teaching? To begin with, it eliminates the need for physical classrooms and other facilities, which can be costly for educational institutions. Online education helps you in reaching a larger number of students without the need for extra infrastructure or resources.
Importance of online teaching is that it eliminates the need for instructors to go to and from classrooms and spend time on non-teaching related chores such as evaluating papers or organizing physical resources etc. 
Physical classrooms and facilities are no longer required for online instruction.
Online education can reach a larger audience without requiring more infrastructure or resources.
It helps in saving money on textbooks and course materials. Teachers can directly provide lecture videos and pdfs to their students
Why teach online? It is more efficient because teachers do not have to commute or spend time on non-teaching activities.
(Suggested – The Best App For Teaching Online: Classplus App)
4: Access to technology
Online teaching gives teachers access to an abundance of digital tools and resources that can improve the teaching process for teachers in a variety of ways. For starters, online teaching can make use of a variety of multimedia materials, such as films, animations, and interactive simulations, to help students visualize complicated concepts and connect more fully with course material.
Teachers can use multimedia tools to help their students learn better
Technological tools and resources help in assisting teachers to work more effectively and efficiently
You can manage your classes more effectively by using learning management systems and online communication tools
Helps in improving students' learning experiences and teachers' teaching, making it a powerful and successful style of education
5: Increased demand
Why choose online teaching? In recent years, the demand for online education has grown significantly, owing to a variety of causes such as increased access to technology, shifting attitudes about online learning, and the desire for flexible and convenient modalities of education.
Learners gain from online education in a variety of ways, including increased flexibility, accessibility, and cost-effectiveness, as well as access to a myriad of resources and tools.
More accessible to a broader audience with increased access to technology
Have resulted in growing acceptance and implementation of online education.
The demand for online education has expanded due to the desire for flexible and convenient means of education.
It provides advantages such as increased flexibility, accessibility, and cost-effectiveness
Conclusion
Online teaching is certainly the way of the future. It's a great way to make money and be your own boss. Why choose online teaching before everyone else does? By taking action now, you can get ahead of the game rather than being left behind. Once it becomes more popular, it will be too late, and you'll be fighting for your position. Start learning how to teach online today so that you're ahead of the game tomorrow.
To make your work even more easier you can connect with Classplus. We at Classplus help you get your own coaching app where you can connect with your students with ease and build a brand of your coaching business. To know more about it, connect with our growth experts at Classplus and get your app now.
Reasons Why Choose Online Teaching FAQs
Q1. Why choose online teaching over traditional classroom teaching?
A1. Online teaching offers greater flexibility and convenience, a wider range of courses and programs, and more personalized learning experiences. 
Q2. What is the importance of online teaching over traditional classroom teaching?
A2. Yes, online teaching can be just as effective as traditional classroom teaching, as long as the learning experience is well-designed and properly facilitated by qualified instructors.
Q3. What are the benefits of online teaching for learners?
A3. Online teaching provides learners with greater control over their learning experience, including the pace, location, and schedule of their studies. It also allows learners to access a wider range of courses and programs. 
Q4. What are the benefits of online teaching for instructors?
A4. Online teaching allows instructors to reach a wider audience, including learners who may not have access to traditional classroom settings. Provides them with a greater flexibility in terms of their work schedule and location.
Q5. What kind of technology do I need for online teaching?
A5. You will need a reliable internet connection, a computer or mobile device, and access to online learning platforms and tools, such as video conferencing software and learning management systems.