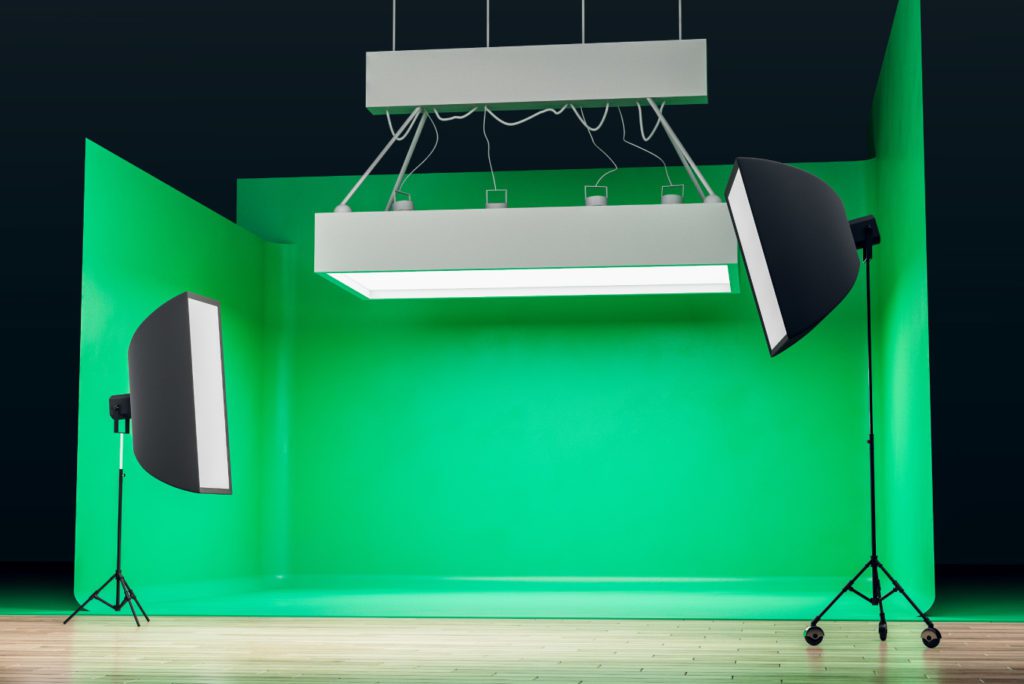 Are you ready to take your teaching videos to new heights? With a home green screen studio setup, you can transport your students to exciting worlds and make learning an exciting experience.
But how can educators prevent the stress of opening their own studio? In this beginner's guide, we'll take you through the simple stages of green screen studio setup .
What is a green screen? 
A green screen is a popular technique used in video and photographic production that allows a solid-colored background to be removed from a scene and replaced with a different background required according to your educational needs and requirements.
Green screen for online teaching is extensively utilized for creating engaging educational videos. They enable the creation of a diverse range of special effects to make your videos more attractive and engaging for your students.
Benefits of using green screen for your studio
Using green screen studio setup can aid in the creation of a distinct brand identity for your educational videos or YouTube videos, making them more memorable and recognizable to viewers.
Take your audience on a creative virtual journey without leaving your studio.
Make use of eye catchy backgrounds and visuals to make your videos more engaging.
Using graphics or animations, you can simplify concepts and use the green screen to graphically teach them.
Remove background distractions to maintain the focus on you and your message.
Save money by producing a variety of scenes without the need for pricey location shots.
With a green screen, you can let your imagination run wild and bring stories to life, thus increasing your creativity.
How to set up green screen studio for online teaching
1. Buy a green screen as per your needs and requirements 
Before you start adjusting your green screen studio setup, it is important for you to select the most suitable green screen for your studio. Consider your budget, requirements etc., while buying the screen. 
You can select the top 10 green screens, compare them and then select the best green screen on the basis of your needs and requirements.
2. Adjust proper lighting 
When putting up a green screen studio setup, it is important to adjust the lighting because it greatly impacts the final video quality. 
Shadows, uneven lighting, and reflections can cause issues throughout the editing process, making removing the green screen background difficult. So it becomes an important step while setting up your green screen.
Another way to provide good lighting is by using the three-point lighting system; leading light, fill light, and a backlight to illuminate the screen.
3. Set up your camera in a proper position
Setting up your camera for the green screen studio setup is necessary to get better quality videos or photos. Camera settings, like brightness, focal length, alignment, etc., must be fixed beforehand. 
These settings effectively impact the quality of the final footage you will obtain. You can create a professional-looking outcome by taking the time to optimize your camera settings and location.
Suggested: Which is the Best Camera for Online Teaching?
When placing a green screen studio setup for online teaching, proper camera positioning is important to avoid distortion and maintain a natural perspective.
4. Record your videos 
After placing the camera and adjusting the lights, it's time to start recording your video. Write and script before recording your video to ensure you don't miss any important points. Next, sit before the green screen and start recording the videos.
Suggested: Best Screen Recording Software For Teachers
Don't speak too fast or too slow; maintain a pace instead of hurrying up. Remember to review the entire script before starting the recording process so you don't get stuck in between.
Be confident while speaking in front of the camera, as it will keep your students engaged throughout the session without getting distracted.
5. Choose a software for video editing
Choosing a good tool to ace online teaching for editing videos is essential for creating engaging and successful content. It helps improve the quality of your videos, provide you with more editing options, increases productivity, and assures interoperability with other applications and platforms.
Ensure that the software selected by you has features like color grading, noise reduction, and audio upgrades and is capable of providing good visual and audio quality.
It also allows you to edit and customize your content by adding graphics, text, and other visual components and trimming and cutting your footage to the desired length.
6. Save and share your videos on your app or YouTube channel 
After you have followed all the above mentioned steps now is the time for you to share your videos on your app or educational YouTube channel. 
Ensure that you have saved your video and made a thorough check before uploading it.
Conclusion
Using a green screen for online teaching can considerably improve the visual experience, producing immersive and engaging content for your online classes. It is necessary to have the proper equipment, such as green screen cloth, illumination, and a camera, to have the best green screen studio setup for online teaching. 
Proper room, lighting, and camera setup are also necessary to ensure that the footage captured by your camera is of good quality. Online teachers can use green screen technology to change their background with any image or video, making their classes more dynamic and participatory.
Now that you're set with your green screen studio setup, let Classplus guide you in expanding your online teaching. Connect with us to boost your income, manage live classes, and more. Ready to elevate your coaching? Take a FREE demo for your own teaching app today!
How to have a green screen studio setup FAQs
Q1. What is a green screen, and why do I need one?
A1.  A green screen is a background used in video production that allows you to remove the background and replace it with another image or video. It is useful for online teaching, live streaming, and video production etc. 
Q2. What are the requirements to set up a green screen for online teaching?
A2. To set up a green screen for online teaching, you will need a green screen backdrop, a support system such as a camera, stand, and proper lighting to ensure even illumination on the backdrop. 
Q3. How to choose the right green screen backdrop?
A3, Choose a green screen backdrop made of high-quality fabric that is wrinkle-resistant and easy to clean. Ensure that it is of sufficient size for your studio and has a solid color with no shadows or wrinkles.
Q4. What lighting is best for a green screen setup?
A4. To achieve the best results, use soft, even lighting that illuminates the green screen evenly. This helps to avoid shadows and uneven color on the screen.
Q5. Can I use a green screen for live streaming?
A5. Yes, a green screen can be used for live streaming on platforms such as Twitch, YouTube, and Facebook Live. Use software such as OBS Studio to replace the green screen background in real-time during the live stream.