Looking for new methods to create engaging educational videos with eye-catching backgrounds? For online training, go no further than the green screen. You may add any location to your background with this simple green screen and make your lectures more entertaining than ever before. Here's a step-by-step tutorial on setting up a green screen for online teaching in your studio.
A green screen is a popular technique used in video and photographic production that allows a solid-colored background to be removed from a scene and replaced with a different background required according to your educational needs.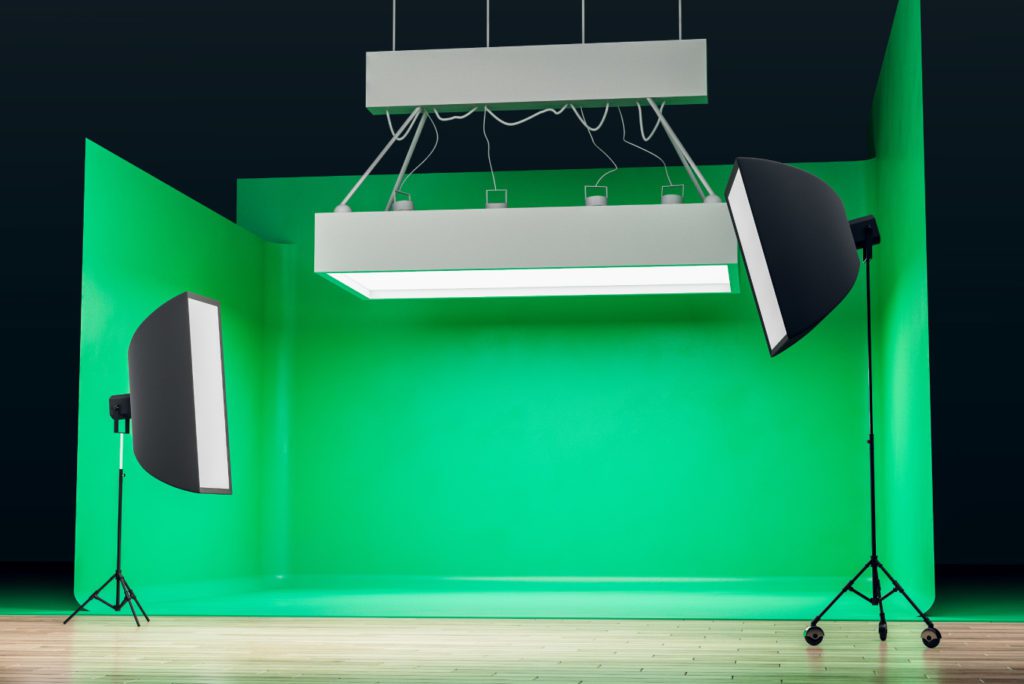 Green screen for online teaching is extensively utilized for creating engaging educational videos. They enable the creation of a diverse range of special effects to make your videos more attractive.
Using green screen technology can aid in the creation of a distinct brand identity for your educational videos or YouTube videos, making them more memorable and recognizable to viewers. Let us understand in detail how you can set up a green screen for online teaching for your studio in detail.
Steps to follow to set up green screen for online teaching for your studio
1. Buy a green screen as per your needs and requirements
Before you start adjusting your green screen for online teaching, it is important for you to select the most suitable green screen for you. Consider your budget, requirements etc., while buying the screen.
You can select the top 5 green screens, compare them and then select the best green screen on the basis of your needs and requirements.
2. Adjust proper lighting
When putting up a green screen for online teaching, it is important to adjust the lighting because it greatly impacts the final video quality.
Shadows, uneven lighting, and reflections can cause issues throughout the editing process, making removing the green screen background difficult. So it becomes an important step while setting up your green screen.
Another way to provide good lighting is by using the three-point lighting system; leading light, fill light, and a backlight to illuminate the screen.
3. Set up your camera in a proper position
Setting up your camera for the green screen is necessary to get better quality videos or photos. Camera settings, like brightness, focal length, alignment, etc., must be fixed beforehand.
These settings effectively impact the quality of the final footage you will obtain. You can create a professional-looking outcome by taking the time to optimize your camera settings and location.
Suggested: Which is the Best Camera for Online Teaching?
When setting up a green screen for online teaching, proper camera positioning is important to avoid distortion and maintain a natural perspective.
4. Record your videos
After placing the camera and adjusting the lights, it's time to start recording your video. Write and script before recording your video to ensure you don't miss any important points. Next, sit before the green screen and start recording the videos.
Suggested: Best Screen Recording Software For Teachers
Don't speak too fast or too slow; maintain a pace instead of hurrying up. Remember to review the entire script before starting the recording process so you don't get stuck in between.
Be confident while speaking in front of the camera, as it will keep your students engaged throughout the session without getting distracted.
5. Choose a software for video editing
Choosing a good software for editing videos for online teaching is essential for creating engaging and successful content. It helps improve the quality of your videos, provide you with more editing options, increases productivity, and assures interoperability with other applications and platforms.
Ensure that the software selected by you has features like color grading, noise reduction, and audio upgrades and is capable of providing good visual and audio quality.
It also allows you to edit and customize your content by adding graphics, text, and other visual components and trimming and cutting your footage to the desired length.
6. Save and share your videos on your app or YouTube channel
After you have followed all the above mentioned steps now is the time for you to share your videos on your app or educational YouTube channel.
Ensure that you have saved your video and made a thorough check before uploading it.
List of best green screen for online teaching
Choosing the best green screen for online teaching can be a task. Here are a few options of the best green screen you can choose from to make your work easier.
1. Homegear portable green screen
This is a portable green screen which has a light absorbing matte texture. You don't have to install a full permanent green screen if you have homegear portable green screen. Carrying it is simple and you can easily pull it up wherever you want to use a green screen.
Ratings: 4.5/5
2. Elgato green screen
Another best green screen for online teaching is the Elgato green screen. This is another portable option for you which doesn't involve any setup beforehand. It has an auto locking system and can be easily deployed. It is a collapsible chroma-key panel that can be used in tight spaces.
Ratings: 4.7/5
3. Ktaxon green screen
The Ktaxon green screen is made of a perfect quality fabric free from wrinkles. It ensures a professional-looking background for your course videos or live streams through your online teaching app. In addition, the screen is accompanied by an adjustable tripod, making it a perfect choice for a green screen for online teaching.
Ratings: 4.5/5
4. Andoer green screen
This green screen for online teaching is a non-woven fabric backdrop background screen. It is one of the best green screens. Highly durable and environment friendly green screen is very light weight and can be easily folded. It has a soft and smooth surface which is wrinkle resistant and can be very easily washed.
Ratings: 4.2/5
Benefits of using green screen
Using green screen technology for online teaching is a very effective tool for virtual classes as it helps to increase student engagement and improve the overall learning experience.The benefits of using green screens are many, such as:
With the use of green screen for online teaching, you can reduce the usage of props
It helps to keep students engaged throughout the session
Using green screen enhances creativity
Teachers can layer any background as per the subject requirement and make it look more creative
With the help of green screen teachers can shoot wherever they want whenever they want
Easily incorporate visual aids, images, and videos into your lessons
The Final Word
Using a green screen for online teaching can considerably improve the visual experience, producing immersive and engaging content for your online classes. It is necessary to have the proper equipment, such as green screen cloth, illumination, and a camera, to set up the best green screen for online teaching.

Proper room, lighting, and camera setup are also necessary to ensure that the footage captured by your camera is of good quality. Online teachers can use green screen technology to change their background with any image or video, making their classes more dynamic and participatory.
Moving forward, if you are passionate about teaching online and want to expand your online coaching business, then Classplus is here to help. Connect with our growth experts to know how you can generate 10X income, conduct smooth live classes, manage the marketing of your coaching business, track student performance, etc. To know more, take a FREE demo now!
How to set up a green screen for your studio FAQs
Q1. What is a green screen, and why do I need one?
A1.  A green screen is a background used in video production that allows you to remove the background and replace it with another image or video. It is useful for online teaching, live streaming, and video production etc. 
Q2. What are the requirements to set up a green screen for online teaching?
A2. To set up a green screen for online teaching, you will need a green screen backdrop, a support system such as a camera, stand, and proper lighting to ensure even illumination on the backdrop. 
Q3. How to choose the right green screen backdrop?
A3, Choose a green screen backdrop made of high-quality fabric that is wrinkle-resistant and easy to clean. Ensure that it is of sufficient size for your studio and has a solid color with no shadows or wrinkles.
Q4. What lighting is best for a green screen setup?
A4. To achieve the best results, use soft, even lighting that illuminates the green screen evenly. This helps to avoid shadows and uneven color on the screen.
Q5. Can I use a green screen for live streaming?
A5. Yes, a green screen can be used for live streaming on platforms such as Twitch, YouTube, and Facebook Live. Use software such as OBS Studio to replace the green screen background in real-time during the live stream.