Do you like yoga? Would you want to spread its benefits all across the world? If you feel this is something you can teach and train people to do, then this blog is for you. Prepare yourself to teach yoga online with us! Get free from established studios and use technology to provide yoga training to people everywhere. Connect with a global community, spread yoga's beauty, and make a difference from the comfort of your own home through your app.
Let us help you understand how you can become a yoga teacher online and start spreading the essence of yoga everywhere.
Why teach yoga online?
There are numerous advantages to teaching yoga online. Giving online instructions will allow you to reach your audience globally and not just confined to a small location.
Online yoga sessions provide a high level of flexibility and convenience, allowing you to teach courses at any time that works for you and reach students in different time zones.
Online teaching make yoga easily accessible to people who have physical disabilities, live in rural places, or are intimidated in a traditional classroom setting.
Teaching yoga online avoids the overhead costs involved with renting a physical venue, allowing you to charge reasonable rates for your lessons.
Yoga lessons online provide you with diverse teaching opportunities
How do yoga teachers make money?
Yoga teachers can teach online and earn money from a variety of sources. With so many opportunities available outside of the traditional classroom, teachers can earn 10X revenue with online yoga sessions.
Offer live or pre recorded lessons using your own app or different platforms to host your courses.
Create an online membership or subscription based platform where your students can directly pay for your courses.
Give private or group online sessions
Provide online workshops and courses to lead students through the learning process, provide full details, instructional videos, and support materials.
To raise funds from your students and community, offer donation-based classes or launch a crowdfunding campaign.
Are you a Yoga instructor looking to shift your lessons online?
Book a FREE call and connect now to know more!
Steps to teach yoga online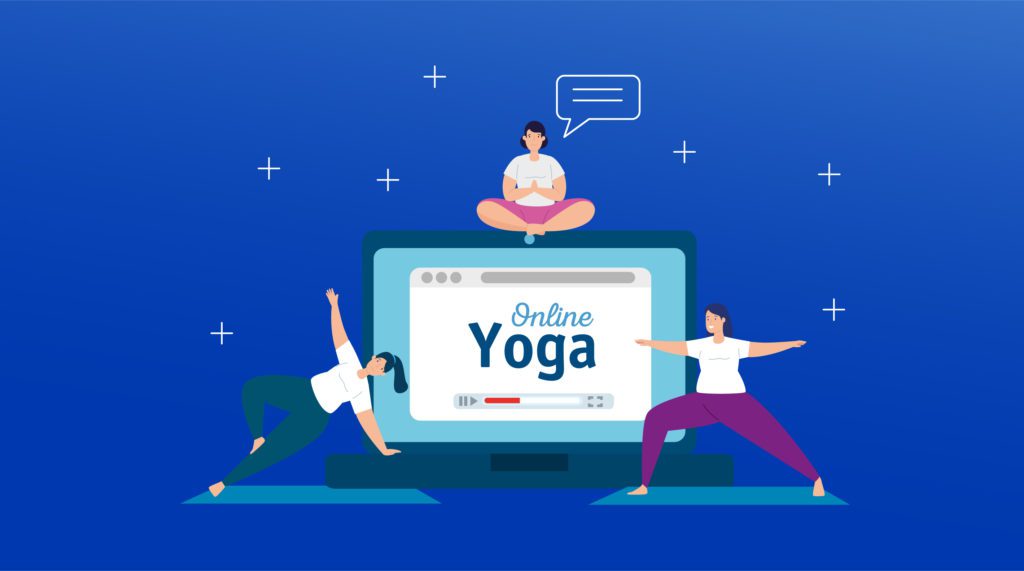 Teaching yoga online allows you to reach a larger audience and share your enthusiasm for yoga. There are several important steps to take to get started.
Decide the format of your yoga lessons
Choose a topic to start your lessons
Get a platform to host your course
Create Engaging Content for your Classes
Market your online course
Step 1: Decide the format of your Yoga lessons
It is important to choose the format that best suits your teaching style and the needs of your students when organizing your yoga courses online.
The format includes features such as class time, asana (position) sequencing, breathwork, meditation, and the use of props or modifications. You may create a unified and well-rounded yoga experience that optimizes learning, promotes advancement, and ensures safety for your students by carefully examining and deciding the structure.
How is it helpful for your students?
A consistent experience for students is ensured by having a clear format, which allows them to know what to expect and feel comfortable during their practice time.
It also enables your students to progress and improve in their yoga practice over time.
A well-structured format values safety by including necessary warm-up and cool-down exercises, placing poses logically, and giving variants for varied flexibility levels and physical conditions.
Step 2: Choose a topic to start your lessons
For example, select a form of yoga you want to teach your students about and then begin with creating related videos for your online yoga classes. Such as, Ashtanga yoga, Hatha yoga, Hot yoga, Iyengar yoga, Kundalini yoga, Power yoga, Restorative yoga, Vinyasa yoga.
You can organize your sessions around certain topics such as mindfulness, strength-building, flexibility, or stress reduction by selecting a topic. This results in a more integrated learning experience, a deeper knowledge of yoga principals, and an overall improvement in practice
How to choose a topic for your lessons?
Determine the needs, goals, and preferences of your students.
Determine your area of expertise and select a topic that is related to it.
Consider student preferences and solicit input.
Include seasonal or thematic topics.
Topic choices should be varied and progressive.
Experiment, collect feedback, and adjust as necessary.
Choosing a topic for your yoga lessons should not only resonate with your students, but it should also match your interest as a teacher. When you are interested and educated about a subject, it improves your teaching and makes the learning process more interesting for students.
Step 3: Get a platform to host your course
It is important to select a reliable platform to teach yoga online that will help you to host your online yoga classes. Consider the features that the platform will offer you and will it meet all your needs and requirements to teach yoga online.
With a good platform, you can ensure better delivery of all your lessons online or offline. Thus, it is important to carefully select a platform for your online teaching needs.
Things to consider before choosing a platform!

Define your preferences and needs.
Research the available platforms.
Think about technical reliability.
Examine security and privacy safeguards
Look for pricing and payment choices.
Seek suggestions and comments.
Platforms can be tested through trials or demos.
Step 4: Create engaging content for your classes
It is important to create compelling content for online yoga sessions because it keeps students engaged, improves knowledge, develops a sense of community, and adds variation to the learning experience.
Students are more likely to join if the subject is engaging.
It aids students in remembering and comprehending yoga ideas.
Students are motivated and inspired in their practice when they are exposed to engaging content.
Students get a sense of connection and community as a result of it.
Content that is engaging provides variety and originality to the classes.
Infusing your personal teaching style into the topic provides depth and relatability.
(Also read: Tips On How To Create Engaging Content)
Step 5: Market your online course
An important step to follow while looking for ways to teach yoga online is to establish a strong online presence.
(Suggested : Popular Offline Marketing Ideas For Coaching Business)
You may ask why marketing is important? So, how will someone purchase your online yoga course from you if they don't know about you? If you are not spreading a word about what you do, what you offer etc. how will you grab the attention of your audience?
To become a yoga teacher online you should focus upon creating an effective online presence with your website, social media platforms, and email newsletters. You can attract new students, by using attractive images, educational content, and testimonials.
You can also reach a larger audience, collaborate with influencers or related brands to spread a word about your online yoga lessons. To encourage enrollment, provide promotional discounts, referral incentives, or free trial lessons.
How to setup your studio for online yoga classes?
1. Get a suitable space to conduct yoga classes
When you teach yoga online, it's important to create a clean and organized background for your video sessions. Make sure there are no distractions or messy items in the frame. It helps to have soft lighting that illuminates your face, so students can see the posture clearly.
Dressing appropriately adds to the professional atmosphere and helps you maintain an authentic presence. Remember, a neat and well-lit space, combined with the right attire, enhances the learning experience and shows your dedication as a yoga teacher.
2. Create a warm and welcoming environment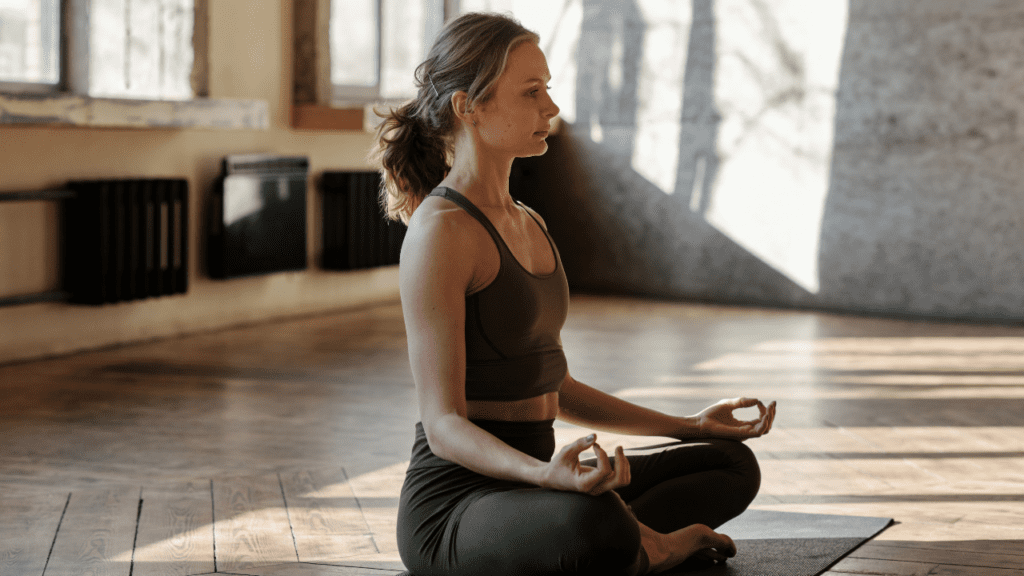 Set aside a space in your house or studio for yoga instruction. Maintain a clean, clutter-free environment with a neutral or tranquil backdrop. Try to include things such as plants, candles, or artwork that reflect the essence of yoga and provide a relaxing environment to teach yoga online.
Keep distractions to a minimum and make sure your environment is conducive to a tranquil practice. Consider playing gentle instrumental music to add to the atmosphere.
3. Get your hands on right tools and equipment
Select suitable tools which will help you in successfully conducting your online yoga classes. Invest in the best camera for online teaching and microphone to ensure that your lessons have excellent audio and video.
Adequate lighting is essential for video clarity. If natural light is not available, invest in a ring lamp or softbox lighting system to illuminate your practice space.
4. Set up your camera
When preparing your camera or webcam for online yoga classes, it's important to select the best angle to capture the complete yoga mat or practice area.
To keep a constant and balanced picture, choose the proper height, stability, and frame. Consider lighting conditions and experiment with various configurations for maximum visibility. Before beginning your online lesson, take the time to customize and review.
5. Audio setup
Audio that is clear and crisp is essential for online yoga classes. Using good yoga software such as a good microphone for online teaching improves the student's experience by allowing them to hear your instructions and assistance without distractions.
To improve sound quality, consider purchasing a headset with a microphone or a dedicated USB microphone.
Conclusion
You can inspire and transform the lives of countless people with your enthusiasm, effort, and the correct tools. Accept the great technology at your disposal, connect with people from all over the world, and allow your positive energy to radiate through screens.
Get started with online yoga classes now!
How to Teach Yoga Online FAQs
Q1. Where to teach yoga online?
A1. If you wish to teach yoga online look for platforms where you can host your courses and engage maximum audience to buy your yoga courses.
Q2. How can I become a yoga online teacher?
A2. Deepen your practice, get certified, gain experience, familiarize with online platforms, set up online presence, invest in equipment, start teaching, and keep learning.
Q3. Which is the best platform for yoga teachers to host their courses?
A3. This depends on individual preferences and needs. However, one of the popular platforms for hosting yoga courses is Classplus.  
Q4. How do I keep my students engaged during online yoga classes?
A4. Encourage active participation and interaction. Ask questions, provide opportunities for students to share their experiences or ask for clarification, and offer modifications or variations for different skill levels.