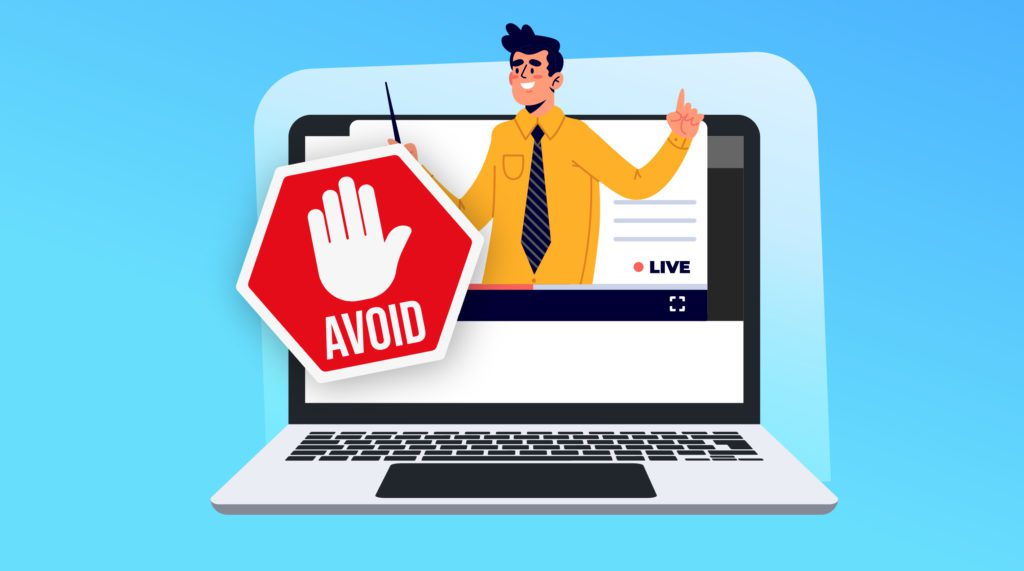 As the world is adapting to online learning, teaching online has become the new norm. However, with this shift comes new challenges, and it's important for educators to be mindful of the mistakes that can hinder their effectiveness. From technical difficulties to issues with student engagement, let's explore the top mistakes to avoid when teaching online.
Online learning is a very popular form of educating students in a more easier and accessible form. In this blog we will take a closer look at the common mistakes in online teaching and how teachers can overcome these mistakes to have smooth running online classes. Let us discuss these mistakes to avoid when teaching online in detail.
List of Mistakes to Avoid When Teaching Online 
1: Failing to Communicate with Students and Peers
Another biggest mistakes to avoid when teaching online is not being able to communicate well with your students. When it comes to online teaching and learning, communication is the most vital instrument.
Good communication keeps students interested in the classroom and allows teachers to teach them more effectively. Effective communication ensures that students comprehend the course contents, assignments, and expectations, which helps them stay on track and achieve academic success.
Suggested – Tips For Teachers To Improve Communication Skills
It also assists instructors in monitoring student progress, identifying areas where students require further assistance, and providing timely feedback. But there are many reasons for having bad communication in the classroom during online classes. Such as,
There could be language barriers between teachers and students
Unclear instructions lead to confusion amongst the students
Personal distractions also lead to lack of focus and improper communication
Lack of face to face interactions between teachers and students during online classes
Strategies to improve communication with instructors and peers
As a teacher you can use different methods to improve communication in your online classroom.
Using clear and concise language when communicating with your students
Use positive and clear words to communicate
Having a friendly tone is always appreciated
Conduct one to one communication sessions with your students
Use different modes of communication such as emailing, video conferencing, messaging apps etc.
Always welcome feedback from your students and peers
To strengthen communication skills, teachers can get their online coaching app developed from Classplus. Its comprehensive features streamline communication procedures, encourage real-time participation, allow for multimedia sharing, ease two-way conversation, and provide centralized data management.
2: Procrastination
One of the biggest mistakes to avoid when teaching online is procrastination. The act of postponing the targeted tasks that need to be done can be defined as procrastination. It is a very common type of online teaching mistakes that affects many people, including teachers and students in the context of online classes. There are several reasons of procrastination during online classes, such as:
Find it difficult to adjust with technology
Lack of face to face communication with their students
Difficulty in maintaining motivation in the classroom
Not able to prioritize their time properly
Surrounded by distractions at home
Lack of motivation and limited peer and student interaction
Tips to avoid procrastination
Teachers should find different ways to overcome procrastination during online classes for a smooth teaching and learning process. Such as,
Have a proper timetable for online classes and topics to cover
Set realistic and achievable goals
Hold accountability for whatever goals you set for yourself and your students
Introduce engaging activities in your classroom to avoid distractions and keep your students interested in the lecture
You can also break huge projects into smaller parts to make them easier for your students to understand
Do activities in the classroom that enhance motivation in your students 
3: Not Taking Breaks
One of the biggest online teaching mistakes that teachers make is not taking breaks in between lectures. During online classes, we tend to spend most of our time in front of the screen which leads to eye strain and frustration.
To avoid this, teachers must take small breaks and divide lectures into smaller parts to keep students engaged in the classroom. This is one of the most important mistakes to avoid when teaching online. 
Suggested – Ways For Teachers to Make Online Teaching Fun
Strategies for taking effective breaks during online classes
Engage in activities which promote relaxation and stress relief
Don't sit in front of the screen during breaks. Give rest to your eyes
Move around and stretch your body to combat physical strain
Make a schedule to take breaks in between long lectures and stick to it
Taking regular breaks will help you to avoid mental and physical fatigue
4: Not Creating a Dedicated Study Space
Not having a dedicated space for online teaching is another biggest mistakes to avoid when teaching online. Failure to establish a designated study environment might result in a number of errors that can have a huge effect on your students' performance and achievement.
For example if you are choosing to sit and teach on a bed or a sofa, it can cause physical discomfort.
This will lead to unwillingness to teach and wrap up the class as soon as possible.. Creating a designated study space is therefore critical for successful teaching and better academic performance of your students.
Tips to create a dedicated study space
Invest in good quality chair and table for your comfort
Personalize the space with accessories that motivate you and cheer up your mood
Keep the space organized
Ensure that the area selected by you has good source of light and fresh air
You can also use organizing tools to keep all your important paper in one place to avoid last moment hassle
5: Not Staying Organized
One of the most common mistakes to avoid when teaching online is failing to stay organized. This can result in a range of challenges, including lower productivity, student confusion, and missed deadlines.
When a teacher is disorganized, it is more difficult to deliver course information in a systematic manner. This leads to disconnected learning experiences for your students. Being organized aids in the creation of a pleasant learning environment, the development of trust and credibility with students.
Tips for staying organized
To outline the class structure and objectives, use a lesson plan template.
Make a timetable to help you manage your time and assignments.
Use digital platforms such as Google Drive, Dropbox, or OneDrive etc. to organize and exchange class materials
Create a digital filing system to easily store and access documents and resources.
Make a checklist for each class session to ensure that all required tasks are performed.
Create a designated workspace with the necessary equipment and materials nearby.
To monitor and track student progress and assignments, use a learning management system (LMS)
Conclusion
To summarize, it is critical for teachers to avoid common mistakes in online teaching in order to give good online education and establish a positive and engaging learning environment for their students. Teachers should focus on creating good teaching experience that will benefit both themselves and their students.
We have discussed the mistakes to avoid when teaching online in detail along with the solutions to tackle them to have a good online teaching and learning experience. So, let us learn from our failures and strive for greatness in online education!
Mistakes To Avoid While Teaching Online FAQs
Q1. What is the biggest mistake to avoid when teaching online?
A1. The biggest mistake to avoid when teaching online is failing to establish clear communication and expectations with your students from the outset. 
Q2. Why is it important to avoid multitasking during online classes?
A2. Multitasking during online classes can lead to distraction and decreased focus on the lesson, resulting in missed information or incomplete learning.
Q3. How can I prevent technical issues from disrupting my online classes?
A3. To prevent technical issues from disrupting your online classes, make sure to test your equipment and internet connection in advance, and have a backup plan in case of technical difficulties. 
Q4. What is the best way to create engagement and interaction in an online class and overcome common mistakes in online teaching?
A4. Some effective ways to create engagement and interaction in an online class to overcome common mistakes in online teaching include using interactive tools and activities, encouraging discussion and collaboration among students, and incorporating multimedia elements into your lessons.
Q5. What are some of the online teaching mistakes to avoid?
A5. Some of the online teaching mistakes to avoid are not being able to communicate properly, unable to create a dedicated space for teaching, regular procrastination, not staying organized, etc.