Do you love cooking? Think about all the delicious dishes that you make. Why not share this love for cooking with others as well. Starting your own online cooking classes is indeed a great idea. And guess what? We're here to guide you every step of the way to teach cooking online. So, let us begin!
Is it possible to teach cooking online?
Yes, with the help of video tutorials, interactive sessions, and detailed recipes, you can teach cooking online which is very easy and popular now-a-days.
Almost everyone is involved in cooking daily. Also, we can see that cooking has progressed from a hobby to a profession. Being a professional chef is not difficult these days, and they can try to expand their cooking knowledge by teaching classes if they so desire.
As the world has adapted digital techniques, providing cooking courses online has become more accessible, requiring only some time, hard work, and dedication. Online cooking classes are a great way to teach online and earn good money.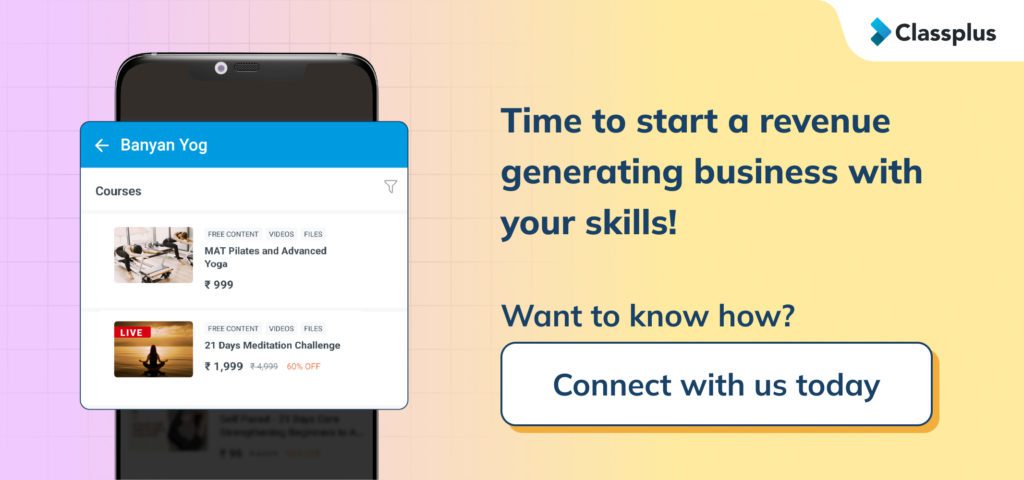 Get started with teaching cooking online with these easy steps
#Step 1: Know your audience
Start by knowing your audience if you wish to teach cooking online. Knowing your audience is the first and foremost step to follow before you start teaching cooking online. Understand whether your audience is at the beginner, intermediate or advanced stage. By gathering this information you can accordingly plan your course structure.
Split the beginners in a different group followed by intermediate and advanced learners in separate groups. Accordingly prepare a course for each of these groups. This will help you in providing exactly what your learners expect from you.
By understanding your audience you can be aware of the diverse culture they belong to which will help you in addressing varied cultural perspectives and preferences.
#Step 2: Offer live lectures
Live lectures are a great way to teach cooking online and reach a global audience. With live lectures, teachers can offer real time cooking lessons and interact directly with their students, answer questions and provide immediate feedback as well.
(Sggested: How To Sell Notes Online?)
How can you conduct live classes to teach cooking online?
Start by gathering all the useful tools, such as
A camera to record good cooking videos. You don't need to invest too much to buy a good camera, you can start by investing in a small and simple camera as well.
Microphone for online teaching is also an important tool to make sure that your students hear clear instructions. Again, there is no need to invest in expensive mics rather start with a simple microphone for online teaching.
You will also need a laptop to conduct classes as well as to edit your final cooking videos.
As a cooking instructor, you will also need good utensils to use in your videos.
A clean and spacious location to shoot. You can start from your own kitchen as well but later you will require a separate space to shoot your cooking videos.
You can conduct live classes through your online cooking app as well. Just record videos and list all the videos on your app. Let your students purchase these courses easily and learn whenever they want to. Connect with our growth experts for FREE to know more about it!
#Step 3: Create interactive assignments
Assigning interactive tasks to your students will help in keeping your students hooked to your courses for a longer period of time.
You can actively engage your students, making them practice their skills, and ensuring they grasp the concepts taught. Creative assignments create a hands-on learning experience for your students and improves student's proficiency.
Interactive tasks will keep students involved and motivated throughout the course and help in better retention of cooking techniques and concepts.
#Step 4: Include technology
Using technology is a skill nowadays and including it in your cooking classes online will make it much easier and effective. Using technology properly helps you to reach more students across the globe.
Teachers can conduct online classes and connect with students from different places. Live classes can be conducted through your own app or any other hosting platforms. It is a very convenient way to teach and reach more students.
You can even make your lectures more engaging and interactive with different tools to teach online. 
What can you do with technology in your hands?
Add animations, videos or images in your videos to make the lessons interesting for your students.
Track the progress of your students.
Assign interesting tasks or assignments related to cooking to your students all through online mode.
Teachers can also use online quizzes to test knowledge and forums where students share their cooking results
With technology, teachers can easily update lessons or add new recipes to their course.
#Step 5: Update your skills
The cooking world is emerging everyday and with new techniques and trends there is no doubt that you can teach cooking classes online very easily.
For online cooking instructors, it is important to stay updated with the latest advancements in this field. You should keep brushing up your skills and remain fresh and appealing to the huge audience available online.
The more you keep learning, the more you can offer to your students to get better at cooking.
Stay updated with the culinary trends
Introduce new dishes and recipes with your students
Find different ways to turn complex recipes into easier ones
Include different regional dishes in your course curriculum
#Step 6: Build a community
Creating a community around your online cooking lessons can be a game-changer for you to teach cooking online. A community will help in letting your students interact with each other, share what they have learned so far, ask questions etc. making learners more invested in the course.
A good community can turn your cooking classes from an instructional platform to a vibrant club of cooking enthusiasts. This is helpful because more experienced members can help beginners, leading to a supportive learning environment.
Conclusion
Now that you know how to teach cooking online, it's time to start your classes. Teaching is a rewarding profession and with advanced technology you can now easily teach cooking classes online. It is important to stay updated with advanced technology and keep learning. So, get started, connect with food lovers and spread the love of cooking across the globe. Happy teaching!
How to teach cooking online FAQs
Q1. How do I start teaching cooking online?
A1. Start by identifying your expertise, setting up a platform, and planning your curriculum. Make sure you have the necessary equipment for video recording or conducting live classes. 
Q2. What equipment do I need to teach cooking online?
A2. Basic requirements include a good-quality camera, a microphone, proper lighting, and a stable internet connection. Investing in editing software can also enhance the quality of your lessons.
Q3. How do I engage students in an online cooking class?
A3. Offer live sessions, interactive quizzes, and community forums. Encourage students to share their cooking results and provide feedback to create a collaborative learning environment.
Q4. How do I promote my online cooking classes?
A4. Utilize social media platforms, collaborate with food bloggers, offer free introductory classes, and encourage students to leave reviews and testimonials to boost visibility.