Did you know your cooking skills can help you earn money? With the rise of online platforms, it is the perfect time for you to turn your passion into revenue generating skill. In this blog we will tell you how to create and sell cooking courses online.
Things to consider while creating a cooking course online
1. Expertise
To create cooking course online, you should know how to cook well. It is not necessary for you to be a top chef but you should know the basics. Having the knowledge of different ways to cook different ingredients is enough to get started with your online cooking classes. Figure out the area you are an expert at and then launch your course accordingly.
In addition to teaching your class, try to attend a few professional runs. Take lots of notes and ask a lot of questions. This will assist you in creating and hosting your online class.
2. Target audience
To create and sell cooking courses online, think about what kind of audience will watch it. Is the audience aware about cooking or has cooked before. Do they prefer quick meals or fancy dishes?
(Suggested: How to Increase Engagement on YouTube)
What kind of course are they expecting to learn about? Knowing about this will help you make a course that they will enjoy. You may ask how it will help you? So, with this knowledge you can decide what recipes to share and how to explain things.
3. Be active
As a content creator, you must be active in social groups and social media pages. There are very high chances that you can sell your courses on social media as well.
Getting everyone together and forming an excellent social group will aid to market and sell cooking course you created. Once they have formed strong group bonds, you can share your course links, solicit feedback, and do other things.
4. Planning
The most important step to start teaching cooking online is to have a plan. Bringing the kitchen to the classroom entails getting everything you might need. Planning can keep you from forgetting essential materials.
What can you plan for?
Plan for the first video you want to put on your YouTube channel. This video will be many people's first look at what you do, so it is important to make it good!
Choose the photos or posters you want to show on your social media platform. These should be catchy and appealing to the eyes of your audience.
Decide on the dishes you want to teach in your first lesson. It's good to start with something simple but tasty.
Think about how many students you want in one class. A smaller group might be easier to manage when you're just starting.
Online cooking classes necessitate additional time for demonstrations, skill practice, and answering numerous questions. So, starting with a plan, you can easily create and sell your cooking courses online.
(Suggested: Why Choose Online Teaching)
5. Content creation
After planning, we must begin with content creation. To start, we must select a specific cuisine or recipe because you cannot do two-three things at once. So, here are the main things you must do in terms of content creation to create and sell cooking courses online.
Select only one recipe at a time.
Add steps to the content of the recipe.
A detailed menu (ingredients, descriptions etc.).
Allergy or restriction questionnaire.
Include cleaning as part of the lesson in your cooking course online.
Select recipe ideas that you have hands-on preparation for.
In each class, concentrate on one cuisine or one recipe.
Choose recipes that strike a balance between health and convenience.
Mention the cutlery that will be used. (oven, frying pan, or saucepan) Include the temperature, how long you'll cook it, and how you'll know when it's done. Your students will appreciate the latter.
Show your students how to plate or serve their creations and display them on a plate.
Remember to have fun while teaching to create and sell cooking courses online.
Also, you can provide them with recordings of the online classes so they can use them later.
It is even better if you put these recorded videos on your own app so that your students can access them whenever they want.
6. Hosting
Choosing the best hosting platform is the most important step to follow when you want to create and sell cooking courses online.
Many in-built tools to teach online are required to host your online class, such as recording and saving your lectures, internal space, attendance management, etc.
You can get your own app to host your online cooking classes and sell your courses. Connect with Classplus and talk to our growth experts to know more about it.
How to sell cooking courses online?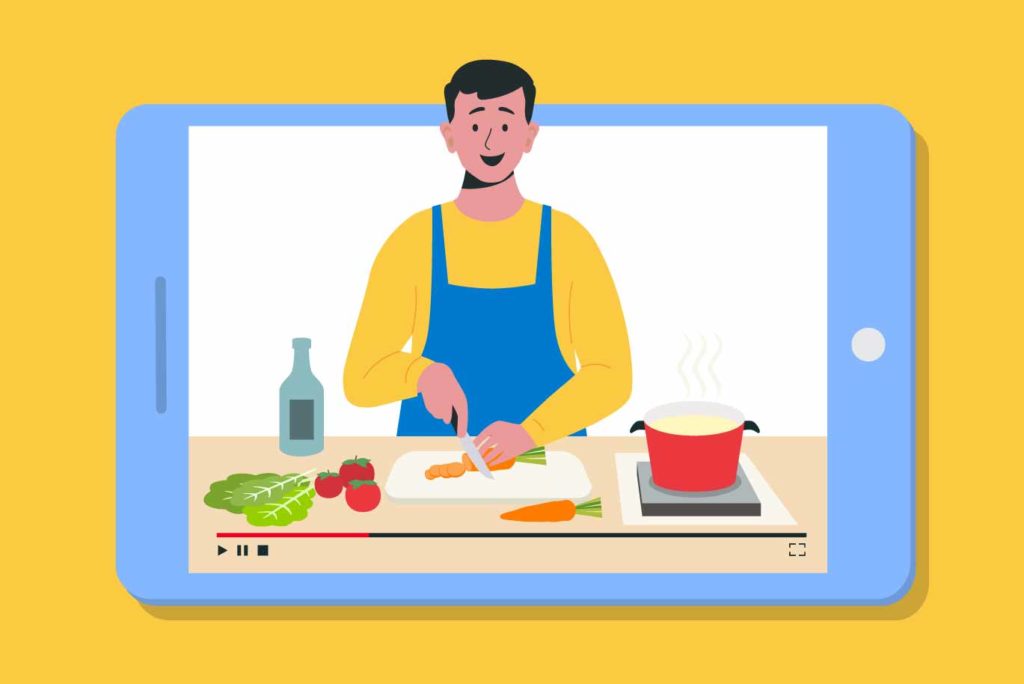 1. Marketing and promotion
To sell your cooking courses online considering marketing and promotional activities is important. It ensures that you are able to reach the maximum potential audience to spread a word about your cooking course.
Start with social media platforms where you can regularly post testimonials, promotions and snippets of your cooking course. Platforms like Facebook, Instagram, Twitter etc.
Another way is to do email marketing. Start by building a mailing list and send newsletters or updates about your cooking course. You can also send updates regarding offers and discounts related to your course.
2. List courses on your app
Do you know you can sell cooking course online? Selling your cooking courses online through your app is the most preferred and easiest way. You can list all your courses at one place making it easier for the learners to purchase and start learning at one place itself.
Getting your app is a very smooth process and Classplus can help you get your app in just 60 seconds. You can create posters or thumbnails all through your app and share them on your social media platforms.
3. Conduct webinars
Who doesn't like to attend informative webinars that too if they are getting it for FREE! Conducting free webinars related to cooking tips and tricks is the best way to attract a larger audience.
Attending webinars will give your audience an idea about your offerings and they will understand whether this course will be beneficial for them or not. So, you can conduct the first few webinars for free and after you successfully build trust and gather an audience base, you can start charging fees for your webinars.
4. Offline marketing
When it comes to marketing, the major focus is on online ways due to which we end up ignoring offline marketing ideas. But to have effective marketing, it is important to understand the value of offline marketing ideas for selling your cooking courses online.
There are different types of offline marketing strategies to consider, such as:
Print ads or flyers
TV commercials
Radio ads
Event marketing etc.
Conclusion
In today's world of technology, it is a popular choice to create and sell cooking courses online for many. It's easy, cost-effective, and people love learning from home. If cooking is your passion, why not teach it online? Create and sell cooking courses online on your app today. Happy teaching!
And it is easier now with Classplus. Make your dream come true and grow as an online cooking teacher with your own coaching app. So, if you dream of sharing your kitchen secrets, now's the perfect time to start your online cooking course journey.
Create and sell cooking courses online FAQs
Q1. What equipment do I need to start recording my cooking classes?
A1. A camera, smartphone, mic, good lights, green screen(optional), good setup etc.
Q2. How can I promote my cooking course?
A2. Use social media, share teaser videos, collaborate with food bloggers, or offer special discounts for a limited time.
Q3. Is it difficult to take online cooking classes?
A3. No, it is not difficult to take online cooking classes, with proper planning and execution you can become a successful online cooking teacher. 
Q4. How can I make my cooking course more interactive?
A4. Add quizzes, assignments, or host live Q&A sessions etc.