In today's digital age, graphic design is a highly desirable profession, and it has never been a better time to teach and learn considering the increasing need for aesthetically appealing designs. What better method to teach and learn than by using graphic design software for beginners? This curriculum offers a thorough and dynamic experience with all you need to advance your graphic design abilities. We are going to discuss graphic design software for beginners to teach online.
Online Graphic Designing Software- Best To Teach Online
Canva

One of the best online graphic designing software for modifying photos is Canva. It is really simple to make rapid modifications like cropping and resizing photographs as well as adding filters, frames, text, and effects. There are no limitations on editing images with this graphic designing software for beginners version; for instance, no watermarks are applied.
Everything can be done in the browser or through a mobile app. All of these features make Canva a top choice for both teachers and students, such as:
Canva is a full-featured free online graphic designing software with a color palette tool, font combination picker, photo collage maker, and more.
It is more than just an online teaching software for image editing. The majority of its functions are also accessible for both Android and iOS. Thus your students can use it on any device.
Canva Pro, the premium edition, also includes a few intriguing features.
The resize and background removal tools are also quite simple to use and ideal for beginners.
Adobe Illustrator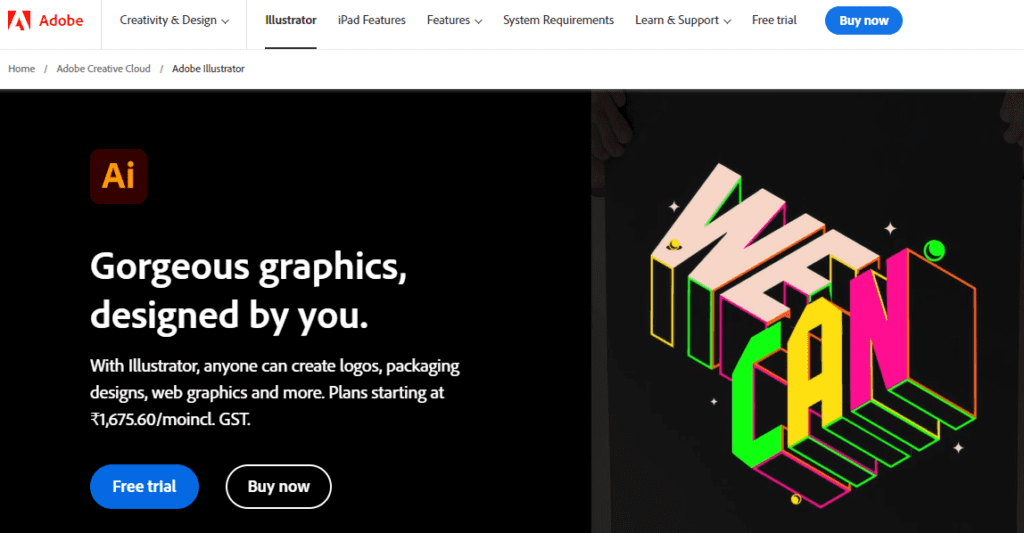 If you want to teach graphic designing online for vector drawing and editing. For this reason, Adobe Illustrator is still the industry standard graphic design software for beginners and continues to provide the most robust set of tools and capabilities for vector editing.
Illustrator allows everyone to create anything from illustrations to logos with complete creative freedom while having a tons of features and shortcuts to help speed up your workflow.
It is compatible with PC, Macs, and even iPads.
A subscription is required to use Illustrator, which is a component of Adobe Creative Cloud. You and your students can choose to subscribe to Adobe Creative Cloud as a whole or just to Illustrator.
The benefit of the subscription model is that you always receive the most recent graphic design software updates.
CorelDraw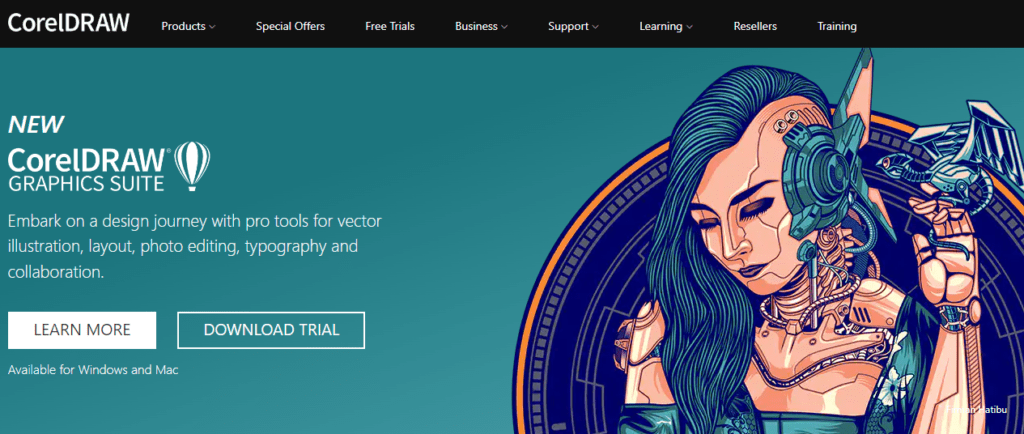 Although Adobe Illustrator has taken away some of CorelDRAW's early popularity, it still has a devoted following, and the online graphic designing software 2021 update brought about several significant improvements. It can be challenging to determine which tool is the better option for graphic designing teachers – CorelDRAW or Illustrator.

Although CorelDRAW teachers claim that it is simpler to use than Illustrator, the truth is that Illustrator is an industry-standard graphic design software for beginners, as your students will frequently be required to use it.
However, importing and exporting AI and PDF files to CorelDRAW is trouble-free. Nevertheless, you should select online graphic designing software to teach because you like the interface and process better.
A Mac edition, which was previously only available for Windows, became available in 2019, helping to increase the package's appeal by making it ubiquitous to all platforms.
With a one-time payment or a subscription, you also have additional financial flexibility.
Create professional designs with vector graphics
Easy editing tools
Adobe Photoshop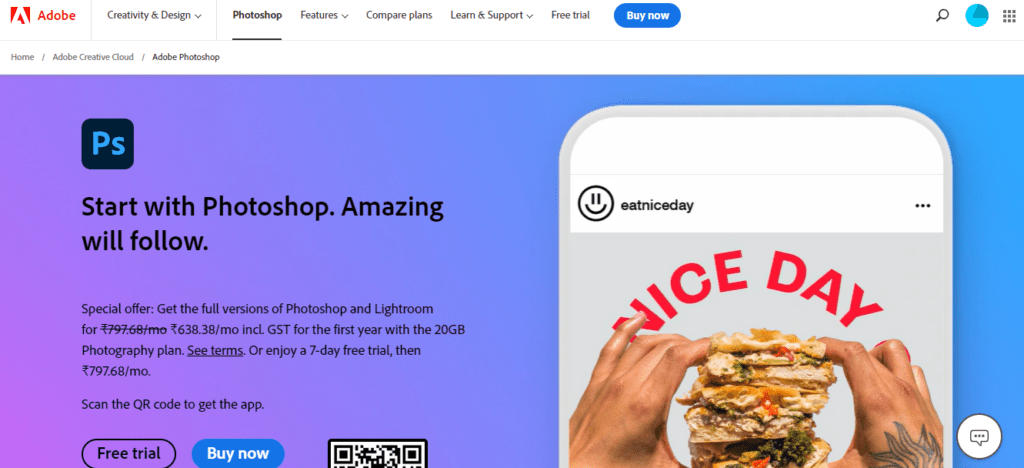 If you are a graphic design teacher, you already know that Adobe Photoshop is the industry-standard graphic design software for beginners for modifying images. Like with all online teaching software, you receive free upgrades regularly. Every teacher teaching graphic designing needs to have creative cloud tools.
When teaching graphic designing courses online, make sure to introduce Adobe Creative Suite to your students. This will help them prepare for industry-standard specifications.
It is capable of far more than just image modification, including photo retouching, digital painting and drawing, 3D modeling, and user experience design.
You'll need a subscription to be able to teach graphic designing through this software, much like with Illustrator, but a subscription to Creative Cloud—which gives you access to Photoshop, Illustrator, InDesign, and more—is practically a requirement.
It has an expansive toolset to work with and creates templates for work as well.
Inkscape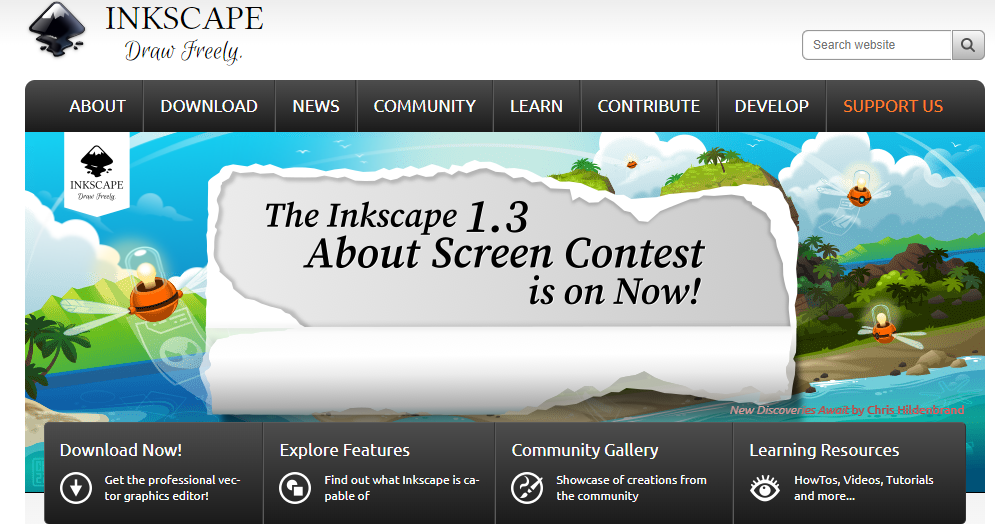 Inkscape is one of the best graphic design software for beginners for creating realistic designs and wrapping texts. It is mostly used for gradient, mesh, conical gradient, envelope and perspective, mirror symmetry, etc. These tools help in better creative control and pigmentation.
Multiple saving formats
Easy rendering
Embedded bitmaps, clones, and object creation withdrawal
Free application
VistaCreate

VistaCreate is a tool that can be used by anyone, whether a designer or not. The main feature of this designing software is that it focuses on pre-made templates that can be easily used by anyone. It has templates for everything, such as social media posts, flyers, logos, etc.
Apart from the pre-made templates, it has other fun tools to work with, such as background remover, Fonts, styles, etc.
Easily used on iOs and Android devices
Directly publishes on social media platforms such as Facebook, Instagram, etc.
75+K design templates for different purposes.
10 GB storage available
Both free and paid versions are available, Pro plan costs €10 per month
DesignWizard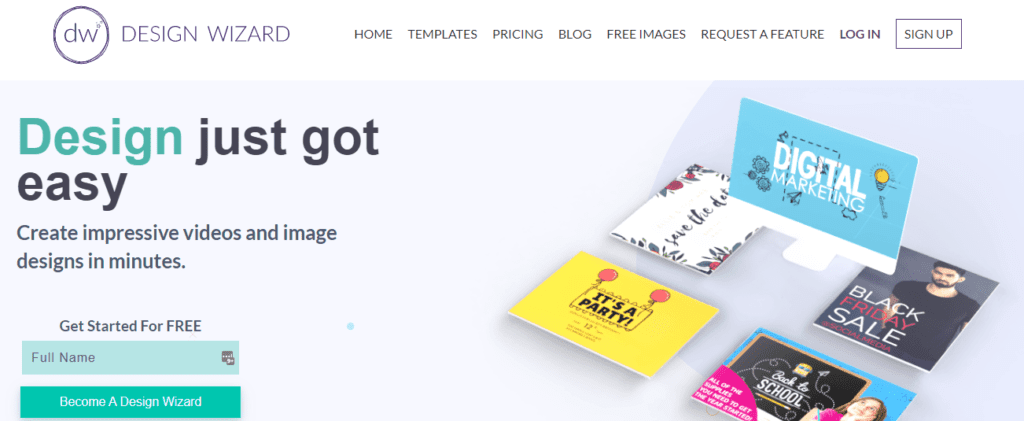 This is another graphic design software for beginners used to create engaging infographics and image content. It can be used by simple licensing with just a one-time payment. It has more than 1 million templates and images that can be used to create designs for presentations, logos, banners, etc. DesignWizard can be used for all individual and commercial purposes. Some of its features include:
Free to use and does not need a subscription, just a one-time license fee.
Unlimited templates, fonts, and styles.
Reseller rights
Post to social media
SVG-Edit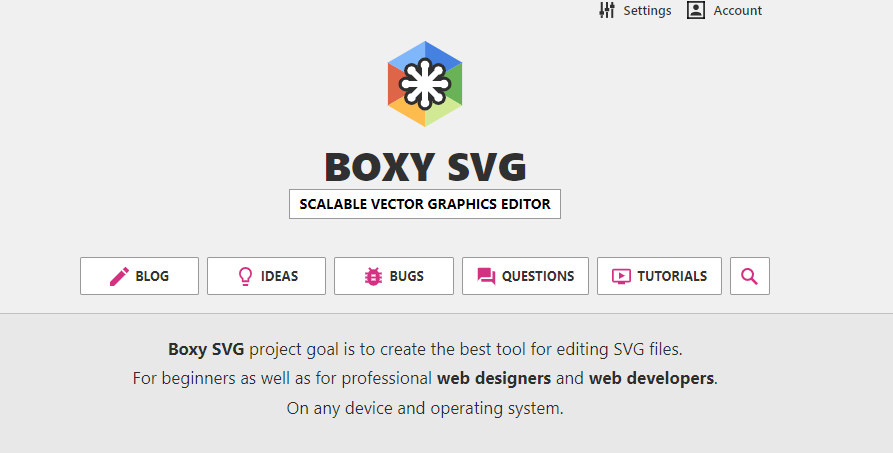 SVG-Edit is another online vector graphic design software for beginners that is powered by JavaScript that helps to create designs with a programmatic approach. It can be run on all browsers, and its main features include illustrations of freestyle drawings, fonts for texts, and many more. This software has multiple conversion file formats such as JPG, BMP, PNG, etc.
Layers and wireframe modes
Alignment and tools
Variety of textual formats
Easy freehand drawing
Onshape

Onshape is a professional online graphic designing software created especially for architects, professional designers, and engineers. This is a great tool for teams to work collaboratively on projects and with in-built editing and multiple projects.
Onshape enables 3D CAD designs and 2D images as well. It has a very secure database. It has standard pricing starting at $1500 per year and $1000 per year for individuals.
Data Management
Full Cloud
Real-time analytics
Sharing and Collaboration
Venngage

Venngage is one of the best graphic design software for beginners used to design interactive infographics. This tool is most prominently used to create presentations, reports, charts, and posters. Its software is very helpful in creating advertising and branding materials that can be used to create an engaging audience.
It has customizable inbuilt templates that can be used for various purposes. Also, it is free for educational use, and a monthly subscription for commercial use is $49 per month per individual.
Add charts and visuals
Customization features
24/7 support available
Multiple templates
Pixlr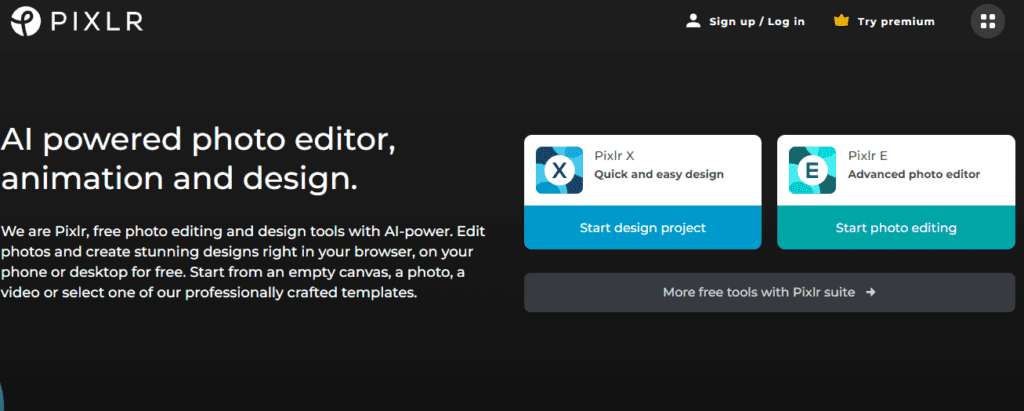 One of the most desirable image editing software is Pixlr because it is a blend of four different applications, Pixlr X, Pixlr Editor, Pixlr Express, and Pixar Pro. It is easily compatible with every device and can work on any browser.
Pixlr maintains the quality of the image and the main features of the software are high-quality editing, image fixing, professional-level pigmentation, and many more. It is easily available for everyone and has reasonable subscription charges.
Dark and Light mode selection
10,000+ Stock Photos and Templates
Refine Edge Tool
Smart Healing tool
Designhill
It is another graphic design software for beginners. It is a user-friendly application that has a studio feature with preset templates to help beginners in editing pictures. Apart from editing pictures, it has templates for presentations, brochures, etc.
It is really helpful with the customization tool on its templates. It is really good for beginners because of its easy-to-use tools.
Easy downloads in multiple formats
Variety of customization templates
Uploading images is easy.
Easy-to-use tools for customization and editing
Wrapping Up
Graphic designing is at its peak nowadays, every company needs designers to present the brand in the very best ways. Here we have discussed some of the graphic design software for beginners that you can use to teach your students online.
Whether you teach graphic design courses online or create online courses on dance, music, yoga, or academics, Classplus has the perfect solution to grow your online coaching business. Get your own coaching app where you can manage communication with students as well as parents, evaluation, fee receipts, student engagement initiatives, and even promote graphic design courses online through your app. To know more about it, connect with us and talk to our experts now!
The Best Graphic Design Software For Beginners To Teach Online FAQs
Q1. Which are the best apps for learning graphic design?
A1. The best app for learning graphic designing online is Canva, Sketchbook, Adobe Photoshop, etc.
Q2. What are the features to look for in a graphic designing software?
A2. When looking for a software to teach graphic design online, consider the following features: ease of use, versatility in terms of design capabilities, file compatibility, collaboration features
Q3. What are the eight types of graphic design?
A3. The eight types of graphic designs are 
Art and Illustration graphics
Packaging graphics
User Interface graphics
Environmental graphics
Marketing and Advertising graphics
Publication graphics
Visual identity graphics
Motion graphics 
Q4. Can you learn graphic design on Canva?
A4. Yes, absolutely. Canva is a great app for learning graphic designing for beginners. It is helpful to learn and master the basics of design.
Q5. What are the five rules of graphic design?
A5. The five rules of graphic design are alignment, contrast, hierarchy, balance, and repetition of the pattern.