A special education teacher works with children of all ages who have learning or cognitive difficulties and emotional or physical issues. Specific education instructors support and manage their pupils' progress with their special needs. In addition, a special education instructor will alter the general education curriculum to meet each student's unique requirements. Teachers in special education (also known as SPED) must be patient, welcoming, and understanding.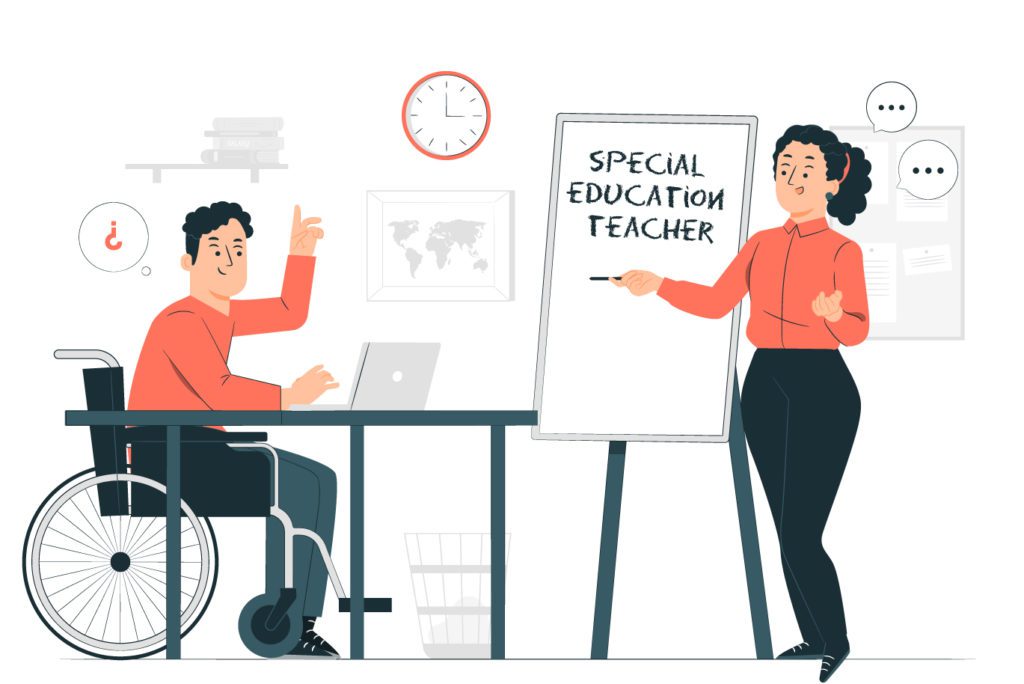 Special Education Teacher Requirements
Special education instructors will be in charge of training children with a wide range of impairments; creating IEPs is essential for these teachers. For example, one youngster may demand individualized attention for reading, but another may require assistance with fundamental life skills such as following directions.
Teachers in special education must be patient, calm, orderly, inspiring, and accepting. Interactions with special needs youngsters from various origins are required as a profession. Special needs students have various requirements that necessitate extra care and understanding.
Because they may have communication problems, good communication skills are essential in a special education profession. These instructors must also connect with a larger team that includes parents, other teachers, and counselors to ensure and observe development.
Special Education Teacher Courses
A bachelor's degree in special education is a good starting point for this vocation. This four-year curriculum covers classes on the exceptional learner, the learning environment, evaluation, customizing teaching for special needs learners, and special needs students' health challenges. You can further narrow your emphasis by taking classes on behavioral disorders, emotional disturbances, autism, or remarkable skills.
Classroom observation and a semester of student teaching allow academic learning to be implemented. Finally, to qualify as a special education teacher, you must pass a licensure exam. Some states have raised the bar and require a Master's degree. Many special-education graduate programs are available online, and teachers may be able to teach temporarily while pursuing this degree.
Role of Special Education Teacher
Based on assessment needs, instruct students in acquiring skills and information that will allow them to engage independently to the greatest extent feasible.
Consultation and support services, including in-service training, are provided to normal and special education teachers, school employees, and peers on Adapted Physical Education requirements and suitable ways of adaptation for the student, fostering maximum independence and safety.
Works with IEP team members (parents, classroom teachers, speech providers, occupational and physical therapists, orientation and mobility experts, and vision specialists) to deliver a functional and meaningful curriculum.
Create a program based on the student's evaluated needs, goals and objectives, and functional and motivational levels.
Conduct an evaluation that focuses on the student's long-term and short-term requirements.
Prepare and use adapted physical education-related equipment and resources for skill development.
Burnout is more common among special education teachers than in most other professions. The burnout rate is the outcome of several challenges, frequently leading to these instructors quitting their positions. As a result of this employee turnover, there are fewer special education instructors and fewer quality programs for the children they teach.
While special education teachers may begin their profession to assist children with disabilities in becoming useful members of society, they confront several obstacles that make the process incredibly challenging. The challenges of the special education teacher include:
The Common Misconception That Teaching Is Simple
Teaching is a challenging job with significant obligations; nonetheless, many individuals fail to understand the teacher's responsibilities. The diverse impairments of the students with whom special education instructors deal add to the job's complexity. The public does not acknowledge or support special education teachers.
Responsibilities Other Than Teaching
Many teachers are skilled and eager to teach, yet they are saddled with obligations that keep them away from the classroom. For example, special education teachers are frequently asked to attend meetings, administer evaluations, and deal with mountains of paperwork.
Unsatisfactory Support
Special education teachers are challenged to perform more with less when many big school systems are experiencing rapid expansion. As a result, salaries are being slashed in many areas, and school administrators sometimes give minimal technical help.
Multi-Disability Management
Students with varied impairments may be present in a special education teacher's courses. Because each student is an individual, teachers must tailor their courses to each student with disabilities by offering personalized education programs.
Specialist Separation
Because special education teachers' work differs greatly from traditional teachers, ordinary classroom teachers may not regard them as colleagues. Teaching "slow" students may have a professional stigma linked to it. Special education teachers frequently work with separate groups and may center on skills rather than material, giving the impression that their job is simpler or less essential.
Accepting Death
Many children in a special education classroom have serious chronic conditions that might lead to death. Handling this is a difficulty that special education instructors must adjust to.
Managing the Challenges of an Inclusive Classroom
The idea of having classes that include both special needs and developing students is gaining popularity. A special education teacher will face unique obstacles as a result of this form of schooling. For example, many students who do not have impairments are unfamiliar with dealing with those who do. Teachers in these classrooms are responsible for removing cruelty and insensitivity from their students and ensuring that people with special needs are treated with dignity.
The Final Word
Any one of these obstacles would make the job of a special education teacher extremely tough; combined, they transform the job into a series of hard chores. Unfortunately, the students suffer due to the expectations imposed on instructors. Anyone considering a career in education should be aware of the problems they will confront and have the mental and emotional strength to overcome them to better their students' chances.
If you are passionate about teaching and wish to expand your online coaching business then Classplus is here to help. Get your own app and reach out to a larger number of students across the country. To know more, connect with us and talk to our experts now!