As a teacher, your laptop is the most crucial gadget to conduct online classes, create assignments, etc. So how do you pick the best laptops for online teaching from this massive ocean of options according to your needs and requirements? Don't worry. We've got you covered.
For conducting online classes, you need to have good-quality tools and equipment. This is important to let your students have the best online learning experience. When purchasing a laptop for online teaching, there are several important considerations to keep in mind. So, before you start shopping around, figure out what you need. We have listed our top picks of best laptops for online teaching for teachers to meet their specific needs and requirements.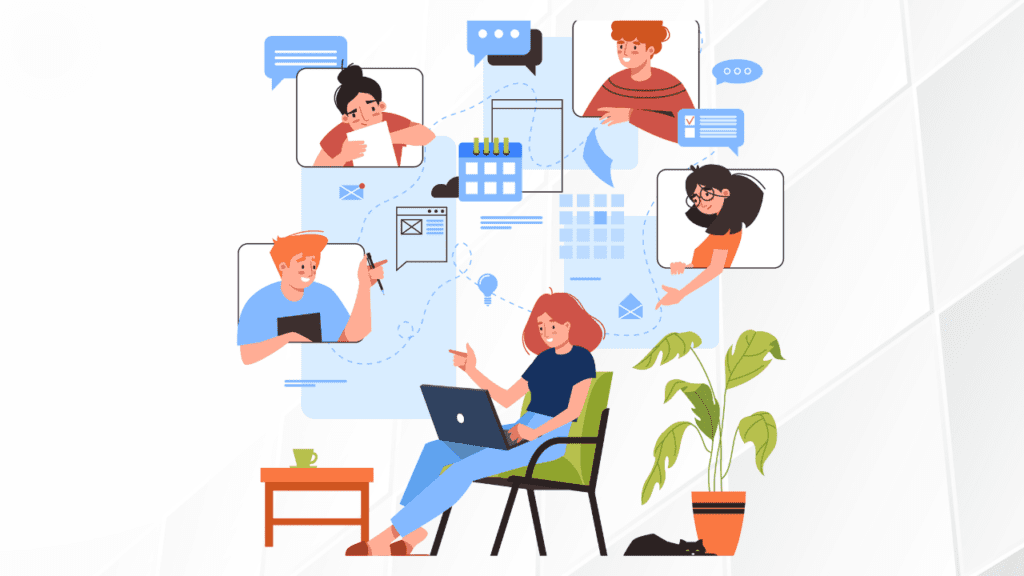 How to choose the best laptop for online teaching?
Choosing the best laptops for online teaching can be a daunting task, and for this, you need to keep a few things in mind, such as :
The processor you choose should be able to multitask and handle multiple applications simultaneously. A processor with at least an Intel Core i5 or i7 or equivalent AMD Ryzen processor is recommended.
RAM of your laptop should be around 8GB to ensure the smooth running of applications.
The laptop must have a storage space of about 256 GB to be able to handle large files.
Display should be a minimum of 13 inches with a resolution of 1080p or higher.
A battery life of 8 hours is a must, so you don't have to worry about charging again and again.
Choose a durable laptop with a durable built quality and sturdy chassis, as teachers are always on the go.
Keep in mind that your laptop should be able to connect with WiFi, Bluetooth, and other attachments such as HDMI, USD-C, SD card reader, and other accessories.
Our top picks for best laptops for online teaching
1. Apple MacBook Pro
Apple really delivered a solid investment with the Macbook Pro. It is a lightweight, sturdy, and well-built laptop. It uses an SSD, which is more durable than the standard hard drive in terms of mechanical failure.
Its 16-inch Full HD stunning retina display offers a comfortable viewing experience, even if you have to stare at the monitor for long periods of time because of online classes.
This is one of the best laptops for online teaching. The memory capacity is enough to run many programs at once, and the storage space is huge. It has up to 64GB of DDR4 RAM, so you can load tons of files and still have plenty of room left over.
Pros
Large screen, high resolution, and long battery life
11-hour battery life
Six speakers with force-canceling woofers
A 9th-generation Intel Core i7 processor and an ultra-fast SSD
1 TB of storage space and 8 TB of SSD storage
Cons
Costlier
Has restricted hardware upgrades
Do you wish to start your online coaching business? Classplus is here to help you. Get your own online coaching app and connect with students across the globe. To know how, take a FREE demo with our growth experts now!
2. Apple MacBook Air
Apple MacBook Air is one of the best laptops for online teaching as it is a very lightweight yet powerful laptop. It is also a great laptop for online teachers who are constantly moving from place to place.
This laptop is extremely light and easy to carry. It is also equipped with a fingerprint reader and a backlit keyboard and also with a 720p FaceTime HD camera, and two microphones. It is also compatible with all Mac OS X operating systems.
Pros
13.3-inch Retina display and a 256 GB SSD
Equipped with a 10th-generation Intel core i3 processor and 8GB RAM
Very affordable
Its battery life lasts longer than other laptops
Cons
Limited port options
Gets warm quickly under workloads
3. Samsung Galaxy Book Ion
Looking for the best laptops for online teaching? We present to you Samsung's Galaxy Book Ion which is a 15.6-inch notebook designed specifically for online teachers. It comes with a 10th gen Intel Core i7 processor and a QLED display. It also includes a discrete graphics card and 8GB of RAM.
All of this allows you to enjoy your online classes without worrying about lag or crashes. If you're looking for a high-quality laptop for online teaching, then the Samsung Galaxy Book is definitely worth checking out.
Pros
Long-lasting battery
It has a keyboard that feels comfortable to type on, making it easy to navigate through your lessons
Thin and lightweight
Cons
It doesn't come with a built-in GPU, so you will need to buy one separately
Poor fingerprint scanner
1080p screen available
4. Asus VivoBook 15
The Asus Vivobook 15 is a great choice for those who need a simple yet capable laptop for online teaching. It comes with an Intel 10th generation CPU, 8GB RAM, and a 512GB SSD. It does everything well enough for online teaching.
Pros
The laptop has a clean design, and the base has a metal frame
Decent display panel
Very affordable and has a 42Wh battery
Cons
Not capable of handling intensive photo and video editing
The Caps Lock indicator is not available
Suggested: Tips On How To Create Engaging Content
5. HP 14-Inch HD laptop
If you're looking for a reasonably priced laptop for online teaching with decent storage space, the HP 14-inch laptop is a great choice. It provides a 128GB SSD plus a 500GB hard drive storage capacity – an excellent feature if you've got lots of files to store!
It runs on Windows 10 Home in S mode, but you can switch to Windows 10. A good all-rounder laptop to use in accomplishing your daily tasks.
Pros
The embedded webcam captures the good-quality and crisp images
With an Intel Core i5 8th generation processor, it offers a solid performance
It has a clickety backlit keyboard, so typing is fun
Cons
Its screen display isn't very bright or colorful
Battery lasts for just six hours
Skimpy storage and memory
6. Dell Inspiron
The Dell XPS 13 is one of the best laptops for online teaching for online teachers because of its sleek design, great battery life, and high-quality display. Its slim profile allows you to easily slip it into a bag or backpack when traveling.
Its 13.3-inch Full HD display provides sharp images and vibrant colors. It can be connected to a projector or external monitor using the built-in DisplayPort 1.2 port.
Pros
It also includes a fingerprint reader, webcam, and dual speakers.
Powered by Windows 10 Home operating system
Weighs less than 3 pounds
Equipped with a 7th Generation Intel Core processor, 16GB of memory, and 128GB SSD storage
Cons
It has a minimal port assortment
Slow hard drive
Indefinite and sharpened clearances
Final Thoughts
The recommended laptops are the best laptops for online teaching. You should check out other options if you are not sure about the quality of the product. A lot of time and effort goes into making sure that the laptop is reliable and will last long. If you're looking for a laptop that will last for years, then you should consider investing in a solid, durable laptop.
A lot of them come with a hefty price tag, but if you get a laptop with seamless processing capabilities and multitasking ability, you'll definitely be satisfied with your purchase.
If you are passionate about teaching and want to take your online coaching business to the next level, then Classplus is here to help you. Get your own coaching app in less than 60 seconds with amazing features made just for you. Connect with our growth experts to know more.
The Best Laptops For Online Teaching FAQs
Q1. What are the important features of the best laptops for online teaching?
A1. Features like a good webcam, clear and bright display, good processor, sufficient storage space, long-lasting battery life, a comfortable keyboard for a good typing experience, etc.
Q2. How much should storage space be for a good laptop?
A2. A good laptop for online teaching should have a storage space of a minimum of 256GB. 
Q3. Is battery life important for laptops for online teaching?
A3. A good battery life is important if you are looking for the best laptops for online teaching. This is because sometimes you will be teaching for extended periods of time without access to a power outlet. 
Q4. Which is the best laptop for online teaching: Windows or MacBook?
A4. You can choose either of the two laptops as per your needs and requirements. Mac laptops are a bit more expensive than Windows laptops but have more durability. Windows laptops offer more customization options and are generally more affordable.