Do you know online educators can use a variety of free marketing tools to grow online coaching business? The usage of online marketing tools is crucial for expanding an online coaching business because they enable coaches to connect with and reach their target market. Coaches can use marketing tools to make a professional website, develop an email list, run social media campaigns, and track website traffic. Online marketing tools can also be used to develop and disseminate interesting content, run advertising, and track their marketing initiatives. Let us look at some of the free marketing tools to grow online coaching business.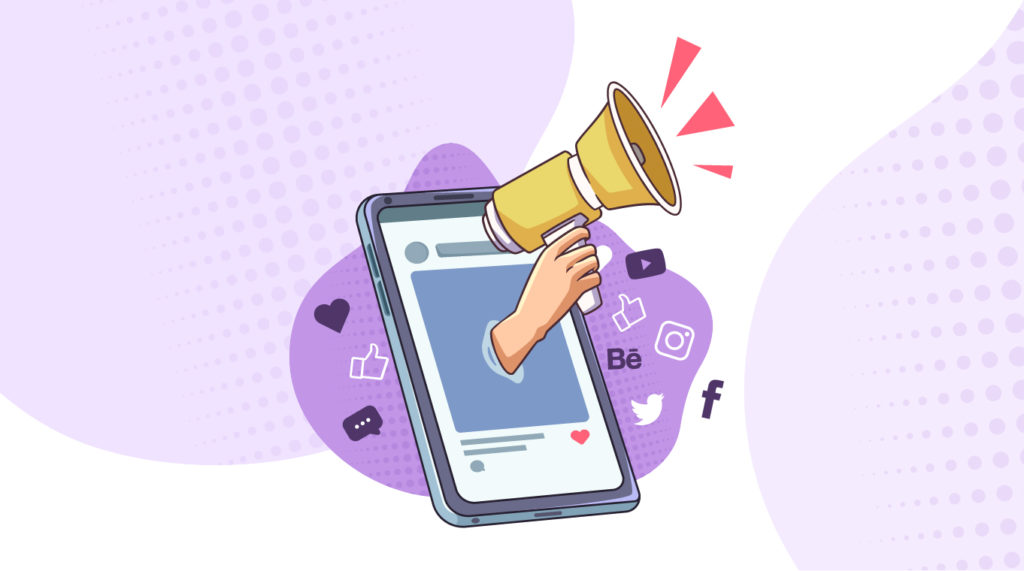 How Do Online Marketing Tools Help Online Coaching Businesses?
Most of the online marketing tools necessary to expand your online coaching business are now automated and streamlined by marketing technologies. For instance, coaches can automatically send newsletters and promotional emails to their subscriber list by utilizing an email marketing tool like Mailchimp. Online educators can schedule posts and keep track of mentions on numerous social media channels with the aid of social media management tools like Hootsuite. Along with using these online marketing tools, your teaching technique also plays an important role. If your teaching method is suitable, more students will consider coming back and buying your courses.
These online marketing tools are necessary for expanding an online coaching business because they enable coaches to efficiently interact with and reach their target audience, automate and expedite marketing duties, and monitor and evaluate the success of their marketing initiatives.
There are more ways to expand your online coaching business and one of the most successful ways is to get your own app. But how? Classplus is one such platform to help you expand your online coaching business. Get your own online coaching app through which you can provide online test series, video lectures, pdf, etc., and students can have access to these features and improve their learning standards.
Top 8 Online Marketing Tools to Grow Your Online Coaching Business
There are several online marketing tools to grow an online coaching business. Some of the tools are listed below:
Canva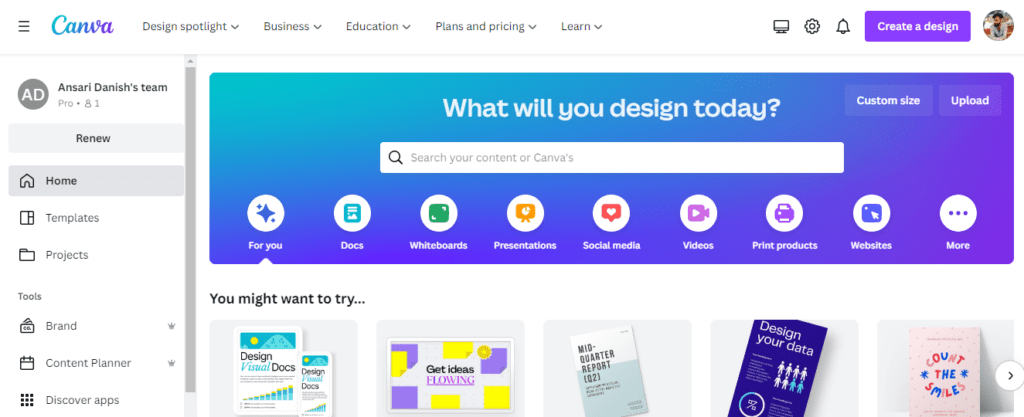 Canva is a graphic designing platform that can be used to design, create and edit graphics, posters, flyers, and much more things. It is a user-friendly interface that helps users to create designs easily with a variety of templates. Users can also upload their own images and use Canva's editing tools to customize their designs. Canva is available as a web-based application as well as mobile app.
It has both a free version (for 30 days) and paid version.
Pros:
Simple to use for teachers
A variety of templates
Templates can be edited
Customized designs can be created
Cons:
Designs are overused
No local file storage
Limited export settings
Stock photography
Buffer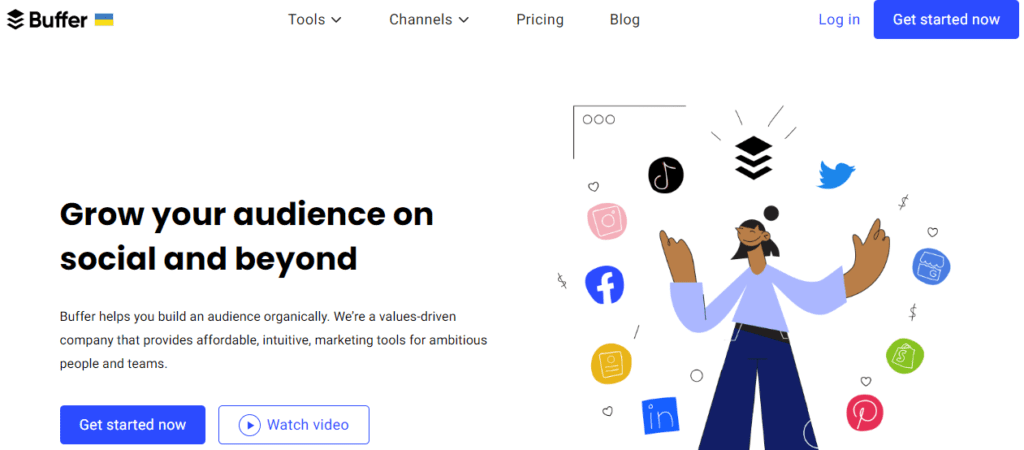 Buffer is a social media management tool that allows users to schedule and publish content across multiple social media platforms, such as Facebook, Twitter, LinkedIn, and Instagram. It allows users to create a queue of content and schedule it to be posted at specific times, making it easy to maintain a consistent social media presence. It helps in monitoring the results as well.
You can access it for free for 14 days which offers all the features of its paid plans.
Pros:
Easy and accurate market testing
Cross posting
Management flexibility
Scheduling posts
Cons:
Not ideal for long term storage
Limited customization options
Less analytics
Limited social media platforms
HubSpot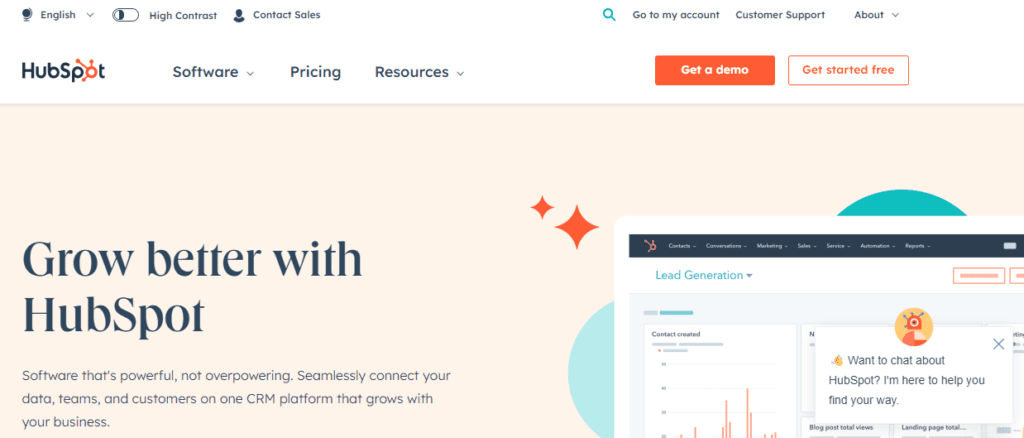 HubSpot is an inbound marketing and sales software platform that provides a variety of tools to help businesses attract, engage, and delight customers. The platform includes tools for content management, search engine optimization, social media management, email marketing, lead management, analytics and reporting, and customer relationship management (CRM). It has a free CRM for customer support, sales, and marketing such as scheduling meetings, live chats etc.
It also offers a range of integrations with other software and platforms to help businesses streamline their marketing and sales processes.
Pros:
It is customizable
Easy analytics tools
Support and resources
The platform is scalable and can accommodate the growth of the business.
Cons:
It is a little expensive
Limited designs options
Very limited integrations
Less options for customization
Mailchimp

Mailchimp is an all-in-one marketing platform that helps marketers to manage and talk to your customers, clients and potential customers. It has a free plan for up to 500 contacts and 2,500 emails per month.
This tool gives a contact management approach with beautiful design campaigns and powerful data analysis. This tool can help a marketer to become an expert marketer.
Pros:
Mailchimp has a generous free plan
It's branding is fun and relatable
Mailchimp is an all-in-one marketing tool—without losing its simplicity.
This platform makes email marketing easy
Cons:
It uses third party tools
Basic editing tools, no advance tools
It is very time-consuming
Templates are not amazing to use
SurveyMonkey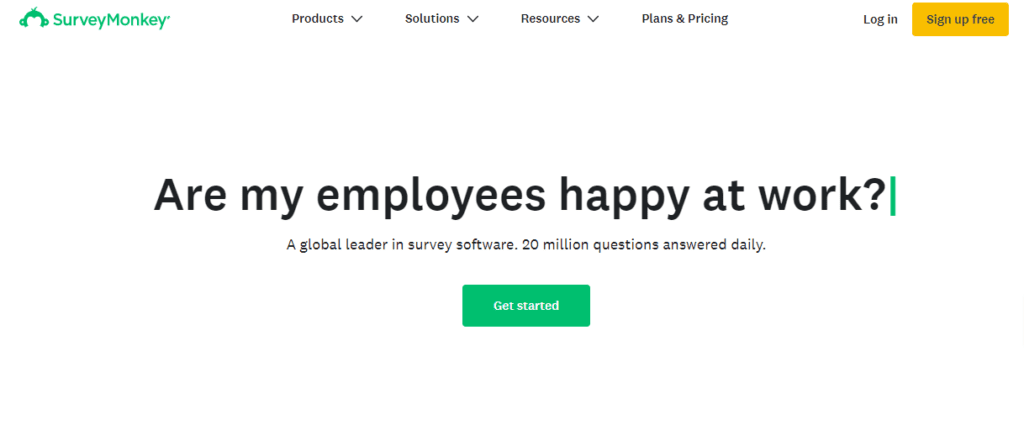 SurveyMonkey is a cloud based free online survey platform which helps educators to add logos, themes, and corporate colors to their surveys to make them more unique. It is an online survey tool which helps you to create quizzes, polls or surveys with ease.
Pros:
Support is offered over the phone and via email
Teachers can create anonymous surveys
It offers a wide variety of features like survey templates, real time results, text analysis, answer validation etc.
Users can email surveys to respondents and publish them on their websites and social media profiles
Cons:
The free features allows users to create only 10 questions with 100 responses
Survey customizations are limited
It offers a limited number of question types
Trello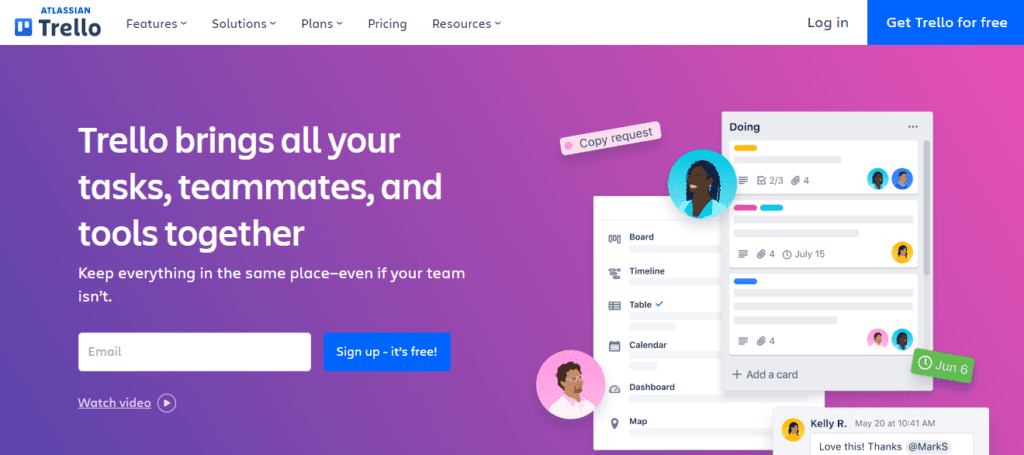 It is a project management and organizing tool which helps you to arrange and monitor activities. Trello has a free plan where it offers all its core features. It also offers three paid plans.
The users of Trello can prepare boards where individual tasks can be represented by cards on a board, and users can track the status of those tasks using labels, due dates, and other features.
Pros:
It has a very user friendly interface
It can be used for a wide range of tasks and projects
You can share boards and assign tasks to the students
Cons:
Document management abilities are limited
It offers limited customization options for the design and layout of the board
It is difficult to track progress on large projects
DocuSign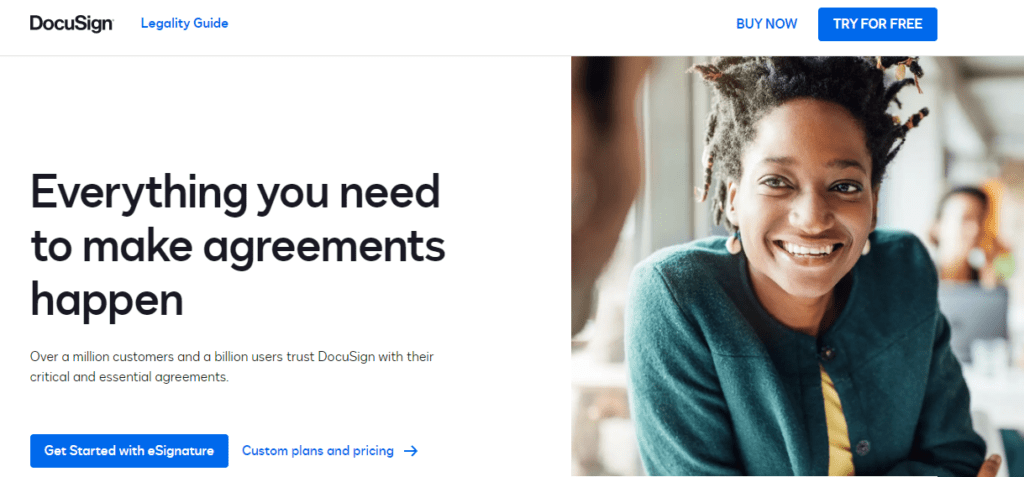 DocuSign is an electronic signature and a digital transaction platform which helps its users to easily sign, send and manage documents electronically. Users can sign up for free for a 30-day trial.
Pros:
It can integrate with third party tools
Allows its users to sign and send documents easily
It provides encryption and authentication and several other security measures
Cons:
Users can access advanced features only after paid subscription
DocuSign does not offer advanced collaboration features
It has limited customization options for designs and layouts
Social Media Platforms For Growing Online Coaching Businesses
Social media is not only for story surfing but also helps promote your work & services. A vast majority of the youths are using social media, so it would be better for you to convey your services via social media applications. You have to find a better place or platform where you can advertise your services.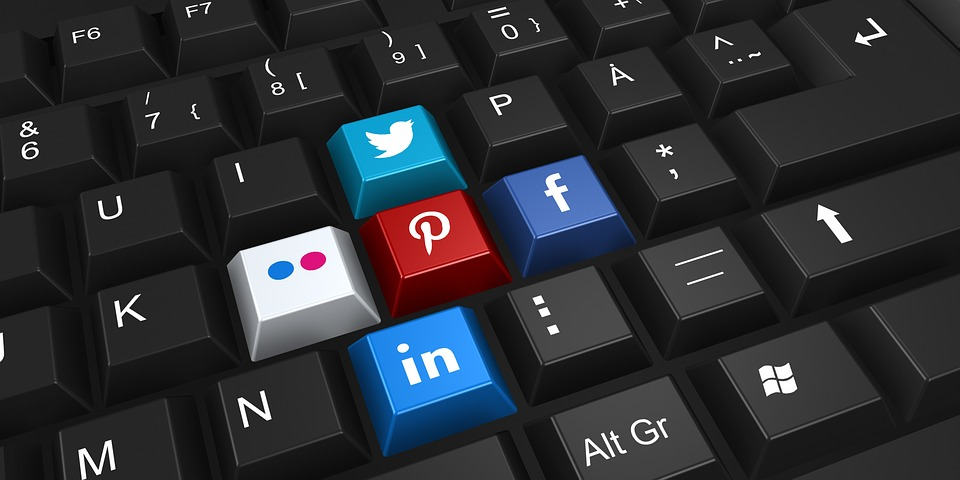 1. Facebook
This is one of the most useful online marketing tools where educators can create groups for their students where they can connect and collaborate with each other. It is very easy to share resources on this platform; videos, articles, presentations etc. Teachers can use Facebook live features to connect with their students, conduct Q&A sessions etc. The best feature of this platform is to advertise your online courses or programs to reach a larger and potential bunch of students.
2. LinkedIn
While growing your online coaching business, the most important thing is to build new connections. People want to know you before reaching your portal, so keep updating every piece of information on time. For this, you can have a LinkedIn profile which will be your primary networking channel, and through this, you can have great potential for business partnerships at your doorsteps. You can reach out to potential clients directly and connect to the right audiences from this platform.
3. Instagram
Share engaging content and reels on Instagram. This is one of the most used social media platforms across the globe. Stay in touch with the insights and analytics of your page. Instagram has other features like sharing posts, reels, creating attractive stories etc.
4. YouTube
You can make YouTube shorts to tell about the courses you offer and your online coaching classes. You can easily define everything you want to promote. While making YouTube videos, you must focus upon making good introductions for your YouTube to keep your audience engaged till the end of the video.
Social media is a great driving tool. Thus, it is one of those marketing tools to grow online coaching business that if used properly can make your business reach heights of success.
Final Thoughts
One of the most useful marketing tools to grow online coaching business is using social media marketing strategies and tools that convey different techniques that facilitate the entire business through online classes. It will notice new audiences and interact again with clients from the past. The importance of digital sales for businesses becomes clear as digital sales executives learn the latest social media trends and how to use them wisely.
So if you are thinking of setting up a new coaching business then you must try out these free marketing tools to boost your business. To know more about how you can expand your online coaching business and have your own app, reach out to Classplus and take a FREE demo with our experts!
FAQs Free Marketing Tools To Grow Online Coaching Business
Q1. How to market coaching business?
A1. To market your coaching business you can use various ways such as promoting on social media, giveaways, freebies, networking groups, Facebook, and through many other ways. 
Q2. How to advertise your online coaching business?
A2. You can incentivize referrals, optimize your social media presence, write and publish thought leadership pieces, Email Marketing, or use paid advertising to make people more aware of your online coaching business. 
Q3. How do you pitch a coaching business?
A3. To clearly pitch your coaching business to anyone you should have a clear and concise script of what you do and how you can help your clients. The script should be engaging to keep them interested in your work.
Q4. What is the golden rule of coaching?
A4. The golden rule of coaching is that you should pay attention to the needs of your clients, focus on the solutions and seek to understand them rather than judge, listen to what they say, and encourage them to come up with ideas on how to move forward.
Q5. What is the 80/20 rule in coaching?
A5. The 80/20 rule or else known as the Pareto Principle states that 20 percent of your actions determine 80 percent of your results.