Teaching different subjects like math, English or Hindi online is normal. But ever thought about teaching art online? Well, let us all normalize this! Because with advanced digital technologies everything and anything is possible. Teaching art online from home is easier than you might think! So, let us know everything about how to teach art online from home and make money!
Why should you teach online art classes?
It is the best way to increase your student reach. You can help maximum students from different places to learn art. In online teaching, there is no limit to participation
Teaching art online from home offers you and your students flexibility. You can choose when to teach your classes as per your comfort and availability.
Teaching online from your own home means you are always in a safe and comfortable place.
The most amazing thing about online teaching is that it saves money. You don't have to rent a space to teach art. A laptop and a comfortable space at home can solve all the issues.
Best way to showcase your passion and help others grow as future artists. As a teacher,  it can be very rewarding to see your students learn and grow as artists.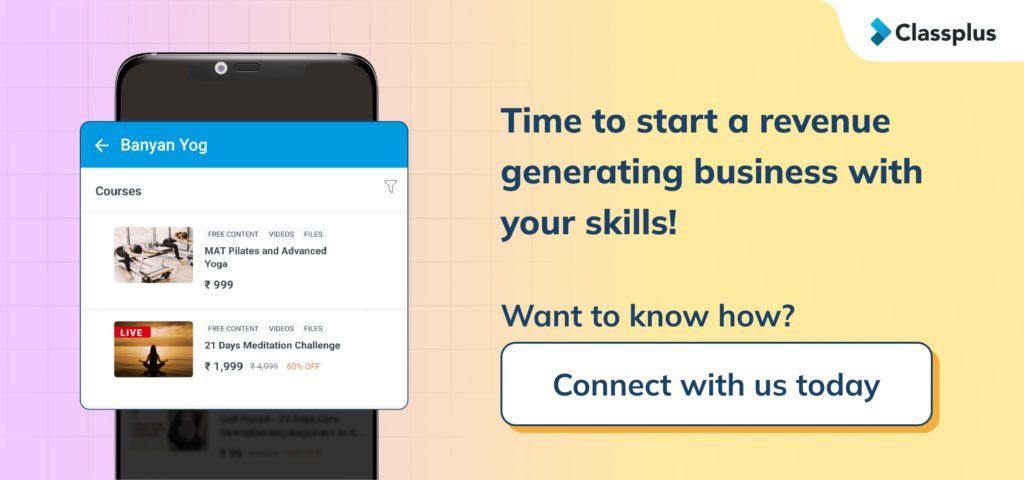 Different ways to teach art online?
How to teach art online? There could be two different ways to teach art online; live classes or pre recorded lessons. 
1. Live Classes
When you teach art classes in real time, where you and your students are online at the same time. Live sessions ensure one on one interactions and students can ask questions immediately and get answers too. Live sessions are like regular classes but on a computer, mobile or tablet.
During live sessions, you can talk to your students, see what they are drawing, and help them improve as well.
Conduct live classes using your app. To know more, connect with our growth experts at Classplus today!
2. Pre-recorded lessons
These are art classes that you record before your students see them. Here the advantage is that you can see the video and make changes accordingly.
Unlike live classes, pre recorded sessions can be viewed whenever your students want to. If a part of the lesson is hard, students can watch it again and again.
It is a great way to learn because they can pause the video and take their time to practice their art.
How to teach art online? It is suggested to take your art classes in both ways as both have their advantages and disadvantages. You can offer both types of lessons to your students to understand what suits them the most.
Upload your recorded lectures on your app. Let you students access them anytime anywhere. To know more, connect with our growth experts at Classplus today!
Things you will need to start teaching online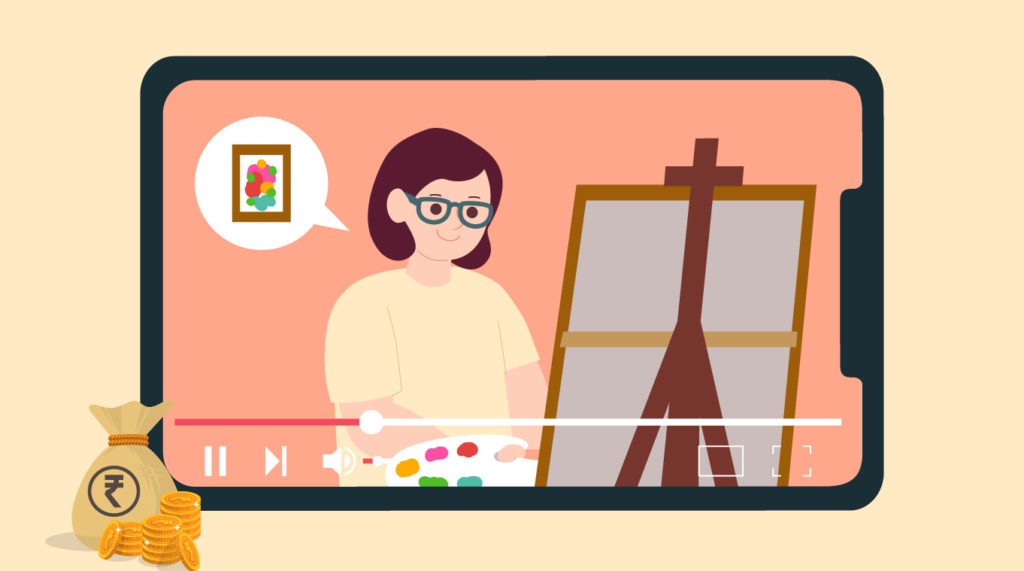 A good camera is important to let your students see clearly. When you teach online, visibility is important as it ensures students have clear access to whatever you teach. But, it doesn't mean that you need an expensive camera, there are many cameras for online teaching available that you can consider. You can easily find cameras that are easy to use and set up.
To make your teaching videos look professional and clear it is important to sit at a place with good lighting. You can sit at a place where there is natural light at your home or get some lights that you can adjust to make the lighting right.
Having a good microphone will ensure clear audio to your students. A good mic will help your students to clearly listen to your instructions. Along with a good video, it is important to have good audio as well. You can easily find a mic for online teaching.
Platform to host your courses
Now the question is where will your students find your courses online? So, having a good platform to host your courses is important. There are many platforms available where you can upload your videos, share your notes, and even talk to your students. But one of the best choices is Classplus, to make all your online teaching related tasks easier you can rely on Classplus.
How to teach Art online with Classplus
If you are an artist looking for a platform to start teaching art online from home then Classplus is the best platform for you.
You can get your own app for teaching art online with your courses listed on your app. List all your courses on your own ecommerce platform, easily create, upload and assign tests, create posters, thumbnails etc. for marketing in just one click all through your app.
Get all the additional support from the Classplus team and start with your online art classes today! It is time to start generating revenue with your expertise to teach art online.
Things to keep in mind while teaching art online
1. Preparation
When you learn how to teach art online, the first step is to be prepared for it. You can make a list of all the important things that you will be needing in each class.
2. Engagement
Another thing to consider while learning how to teach art online means finding ways to keep students interested. If you are not able to increase the engagement then there must be something missing from your end in your courses. Make every art lesson of yours fun and engaging.
(Suggested: Tip to make engaging content)
3. Technology
Advancement in technology has helped a lot in growing online education. Try to understand technology and use it to make your teaching fun. Make sure you are familiar with different tools and platforms to avoid technical glitches during your online classes.
4. Teaching techniques
When you teach art online, think of different ways to share your knowledge. You can show them how to paint step-by-step, talk about famous artists, or ask them to give their opinions on different artworks.
5. Adaptability
In the beginning, teaching online can be tricky but accepting the change will help you in the long run. Sometimes it will be difficult for you to explain things in a new way or try different activities. But staying open to new ideas and listening to what your students think will be rewarding.
Conclusion
So, now that you know how to teach art online it is time to execute everything. With a computer and an internet connection, you can share your love for art with people all over the world. There is always something new to discover about art. So keep studying new art and craft techniques and styles, and keep honing your sketching talents for your online sketching course. This will provide your students with additional opportunities to seek your instruction.
Use your improved online teaching abilities to supplement your in-person sessions and give additional education. Happy teaching!
How to teach art online FAQs
Q1. How do I start teaching art online?
A1. Identify your specialty, set up an online platform, create a curriculum, and promote your classes.
Q2. Do I need an art degree to teach online?
A2. Not necessarily, as skill, experience, and a strong portfolio are often more important.
Q3. What basic equipment is needed?
A3. A quality camera or webcam, microphone, and stable internet. Specific tools depend on your art form.
Q4. How should I structure my lessons?
A4. Begin with basics, progress to advanced techniques, and include theory, demos, and assignments.