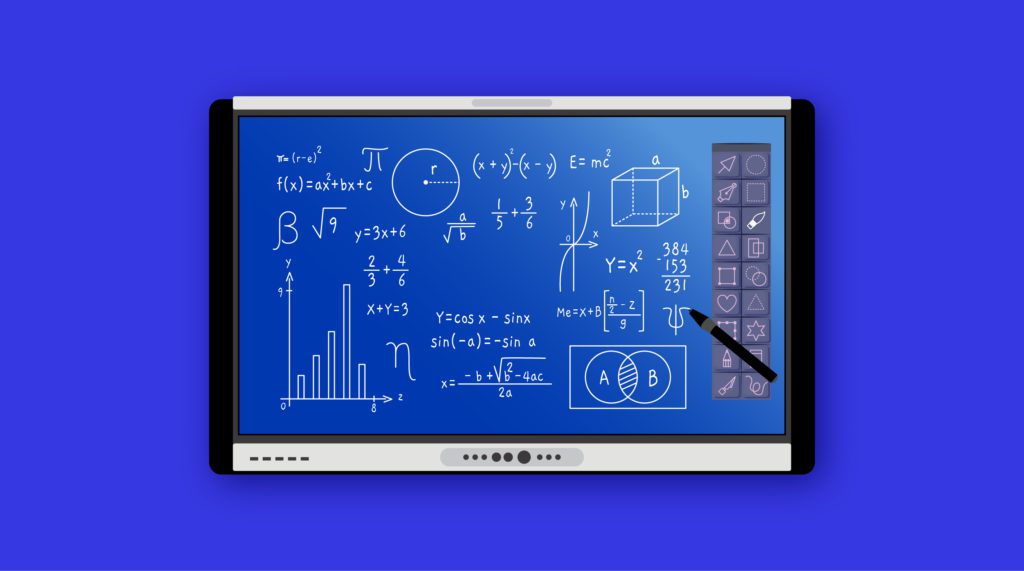 Having the best digital board for online teaching at your fingertip is essential for providing engaging and interactive courses as instructors navigate the virtual classroom. These virtual whiteboards provide a dynamic platform for writing, drawing, and illustrating concepts in real time.
Digital boards not only resonate more with the current tech-savvy 'gen Z', but their interactive features also help the teacher deliver the lesson efficiently.
Let us understand what digital boards are and look at the best digital boards for online teaching.
What are Digital Boards?
Digital boards are the most important component of an online tutor's classroom arrangement. Online teaching not only allows you to break down geographical barriers, but it also provides you and your students with time-based flexibility. With virtual teaching here to stay, you may simply receive all the advice you need for your online classroom.
Gone are the chalk and duster days. Nowadays, digital board for teaching online have replaced the old-aged blackboards. They're the most essential tools for online teachers. They make the work of online tutors easy. If remote teaching is your profession, digital boards are a must.
Its ability to combine images, videos, and websites and project them on a big screen captures the attention of your student which is difficult when you are just delivering lectures.
It helps you to bring practical application to your online teaching.
They are the most important setup to lend a professional look to your virtual teaching platform.
Teach students online effortlessly with your own app. Engage students, collaborate seamlessly, and create interactive lessons. To know more, connect with our growth experts and take a FREE demo now!
List of Top Digital Boards for Online Teaching
1. MAXHUB Digital Interactive Panel Digital Board
This digital board for online teaching supports wireless casting and includes built-in speakers for seamless communication and immersive music. Its interactive capabilities allow you to scribble with an electromagnetic pen or even your fingers, making lessons more engaging and lively.
75-inch LED display with high-quality visuals
Powerful 7th generation CPU and 8 GB RAM for optimal performance
Wireless casting for easy connectivity
Inbuilt speakers for immersive audio experience
Interactive touch functionality with an electromagnetic pen and finger input
Support for various teaching aids such as graphs, charts, tables, and images
2. BenQ Wireless Smartboard
BenQ's digital board for online teaching is the ideal tool for engaging project-based learning experiences, thanks to its user-friendly interface and impressive capabilities. Enjoy built-in wireless screen mirroring and casting features. This board is not only technologically innovative, but it is also created with your well-being in mind.
Ideal for project-based learning.
Germ-resistant and protects against harmful blue lights
Cloud storage and MS Office compatibility
Handwriting recognition and video recording features
75-inch panel with two 16W speakers for immersive audio
3. BRIOTOUCH Digital Board for Online Teaching
BrioTouch flat interactive panel is a digital board for teaching online. It is a remarkable technology that transforms conventional lectures into interactive learning experiences – will take your teaching to new heights. This digital screen provides maximum visibility and durability thanks to its level 7 anti-glare, anti-scratch, and anti-collision qualities.
Web content is streamed in real time for enhanced education.
Collaboration across several devices for improved teamwork and engagement
Wireless casting capabilities provide for simple connectivity.
Built-in speakers of high quality for an immersive audio experience
4. LG Interactive Panel
This digital board for teaching online is designed to improve your teaching experience by providing a variety of features that will take your sessions to new heights. Connectivity and navigation are a snap thanks to the built-in Wi-Fi hub and user-friendly interface.
The pen enables for fluid writing, and the one-touch erase feature makes editing and corrections a breeze. These features make it one of the best online digital boards for teaching.
Collaboration across several devices for improved interaction
Save and share annotations with students Excellent touch performance for smooth operation
Visual clarity that is second to none for colorful and compelling imagery
75-inch display panel for an immersive educational environment
5. Promethean ActivPanel Digital Board
The Promethean ActivPanel is a fantastic interactive digital board for online teaching. Educators can engage students in interactive learning experiences using its touch and pen input possibilities. The powerful programme includes a variety of tools and resources for developing engaging classes and activities.
Touch and pen input possibilities are available on the interactive display.
Dependable software for interactive teaching and activities
A wide range of instructional materials and resources are available.
Built-in speakers provide a rich audio experience.
Wireless networking allows for easy content sharing.
Conclusion
Finally, the best digital boards for online teaching provide a variety of features and benefits that improve both educators' and students' learning experiences. These interactive and collaborative online digital board for teaching allow teachers to conduct compelling courses, visualize concepts, and stimulate student participation.
Best Digital Boards for Online Teaching FAQs
Q1. What are digital boards for online teaching?
A1. Digital boards for online teaching are interactive display systems which provide educators with a versatile platform to deliver engaging lessons and activities.
Q2. Why should educators use digital boards for online teaching?
A2. Digital boards enhance the online teaching experience by allowing educators to create interactive and visually rich lessons. 
Q3. Are digital boards compatible with online teaching platforms?
A3. Yes, most digital boards are compatible with popular online teaching platforms.
Q4. Can online digital board for teaching be used for remote teaching?
A4. Absolutely! Digital boards are designed to facilitate remote teaching by providing educators with a virtual whiteboard-like experience.