Insta stories can be a game changer for you and your content. It's like you, your smartphone, and a world of endless creativity at your fingertips. These short slides help in sharing everything starting from a morning coffee to bedtime selfies. So let us help you explore amazing Instagram story ideas that will make your followers say WoW! Let us reveal some ideas for Instagram stories!
How Instagram Stories Provide Unique Opportunity to Engage With Your Audience?
Different Instagram story ideas can change the entire game for you. From sharing daily updates, to travel sneak peaks to bts stories , you can share everything with your followers just with a few clicks.
List of Instagram Story Ideas
Use stickers
Using catchy and attractive stickers on your Instagram stories can catch the audience's attention. There are many ways to do this in an interesting way. Why not build curiosity amongst the followers? But how do you do that?
(Source: @classplus)
1. New Post sticker
Use a "New Post" sticker on your story to promote your new posts and let your viewers know that you have posted something new. To make sure that your posts are reaching your people you can also consider adding some catchy text or a sticker to engage more people will be rewarding.
And did you know there are plenty of New Post stickers available on Instagram, so start searching for your perfect match now! In our opinion this is one of the best story ideas for Instagram.
2. Hide your post on stories
Hide your post on your story with stickers. This is the best way to build curiosity as well as make sure that the user will click on the link and see your post.
You can use keywords like, click to learn more, click to view the post, something is cooking, sale is live (if you are selling a product), etc.
Also read:
FREE Short Captions for Instagram Pictures
3. Poll stickers
Another very cool Instagram story ideas is to add poll stickers to gather feedback or opinions from your audience. It's an engaging way to involve them in decision-making.
BTS (Behind-the-Scenes)
BTS stories are a great way of engaging with your audience and best story ideas for Instagram. Ask us how!
With these videos on your stories you can share a sneak peek into the inner workings of the actual video that you have made. BTS videos are real, funny and engaging and they also offer a sense of authenticity to your audience.
4. Glimpses of daily routine
There are many ideas for Instagram stories but if you are a skill based content creator, you can consider sharing snippets from your daily routine to showcase both work and personal moments.
For example, a dance content creator can share BTS of dance rehearsals for an upcoming event to promote dance studio on Instagram.
A cook can share BTS for the preparation of a dish that went viral on their social media etc. Similarly, an academic teacher or creator can share glimpses of their online classes too.
5. Workspace tour
Giving a quick tour of your work station in the form of BTS videos can be very engaging and rewarding for you as well as your audience. In these videos, you can reveal about your gadgets that you use to make such amazing videos, other belongings of your workstation etc.
6. Introduce your team
Are you looking for the best story ideas for Instagram for your team? You can introduce your team members through your BTS videos through your stories making your audience feel more connected to you and your product.
Put stories for your educational content
Instagram stories are a great platform for sharing your educational as well as informative content with your audience. Starting from quick tips to quizzes to demonstrating your product, you can do this all.
You can share a quick tip or trick in a series of stories. For example, a Math teacher can use story features to share some easy tricks or ways to solve any Math problem etc.
This feature can also be used to create a step by step guide in the form of text, images or videos where you can explain the process as well. Showcase your product's features and benefits through video demonstrations on your stories.
Simplify all your marketing needs with your own branded app. Create collaterals like posters, thumbnails etc. in just one click. Click on Explore now for FREE to know more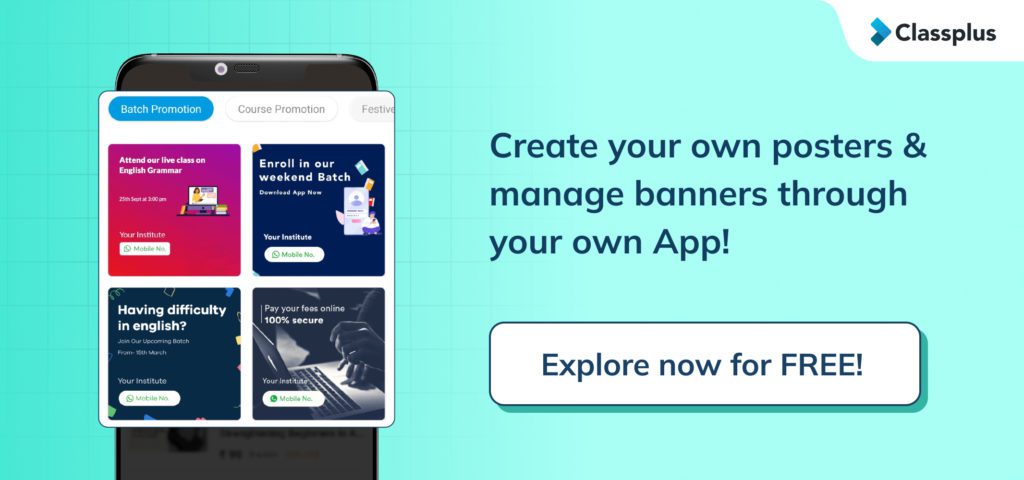 Interactive stories
Another great way to engage with your audience is by sharing interactive stories. Whether you're hosting Q&A sessions, playing fun "this or that" games, using swipe-up links to direct viewers to external content, or announcing live broadcasts, these stories help in encouraging active participation.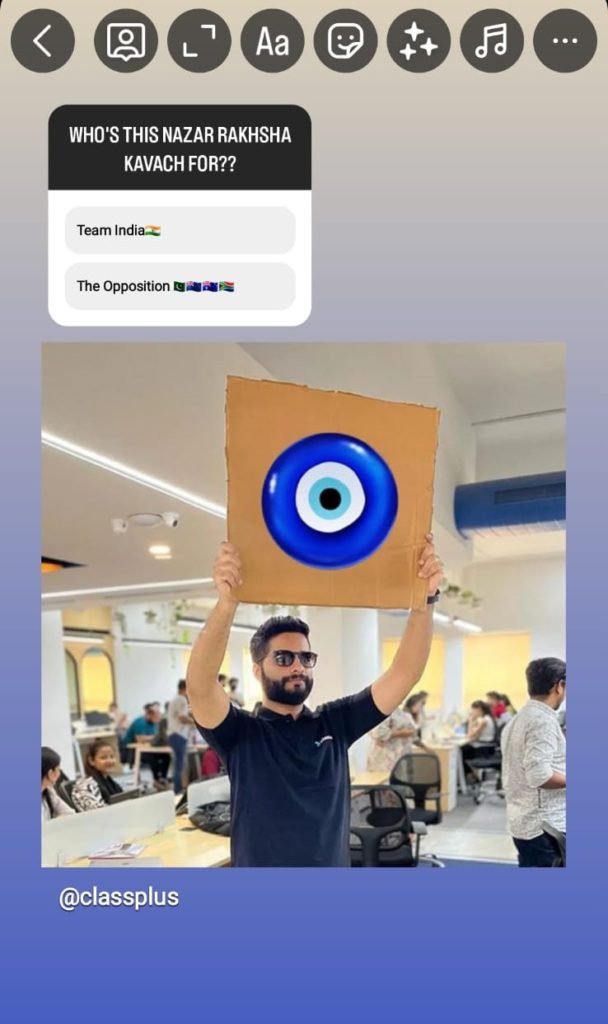 (Source: @classplus)
7. Creative polls for your Insta stories
Instagram polls are your best buddies and one of the most creative Instagram story ideas! It is the best way to communicate with your audience.
When you're low on content, just ask your followers what they want to see next. It's like having a non-stop brainstorming session with your audience. Easy and awesome!
8. Put countdown about an important event
Using a countdown timer on your stories will help your followers know about a special occurrence. It will also remind them that something big is about to happen.
This will create curiosity and lead to maximum engagement on the after appearance of the content that you will be posting after the countdown ends.
This is a great story feature on Instagram and most creative instagram story ideas, where you can use a countdown sticker and your users can set a reminder to get notified about the event. A very easy and low effort way to promote exciting events related to your product or services.
9. Announce discounts and sale with swipe up links
Discounts and sales are loved by everyone, but whenever you have one make sure it reaches as many people as possible. Use your stories in different ways, such as to:
Announce the sale day
Reveal the prices
Disclose amazing offers and rewards etc.
CTAs that you can use:
Along with sharing the details of the sale don't forget to include the link which will redirect viewers to the sale page and also use stickers to make it more engaging. Adding this will serve as a seamless shopping experience for your users and they will be able to get all the information at one place.
Do you want to make this process of pre buzz even more easier? Why not use the inbuilt send notification feature on your own app? To know more about it, connect with our growth experts now!
Run themed series
(Source: @classplus)
Another very great Instagram story ideas is to run themed series. To establish a consistent posting schedule you can run themed series. When your viewers are aware of what to expect they are more likely to return and consume your content. Themed series encourage participation and audience engagement.
As a content creator, successful themed series can attract brand partnerships as well as sponsorship opportunities, leading to monetization possibilities. Let us discover different ways to do this:
10. Weekly challenges
Run weekly challenges on your Instagram stories to engage the audience and improve engagement. Choose a theme and pick a few related content to it. For example, a cooking recipe, an art prompt, or a fitness creator's prompt might be "share your favorite healthy snack" etc.
(Source: @classplus)
Throughout the week, share participant submissions in your stories, giving credit and recognition to contributors. This motivates others to join in.
11. Highlight winners
At the end of the week, showcase the best entries and announce the winners, which could involve featuring their content or giving them a shoutout. This is a great way to encourage more participation.
Photo of the day
A "Photo of the Day" series on your Instagram stories will allow you to showcase your photography skills as well as help you to engage with your audience. Select a daily theme or topic for your photos. This could be anything from nature shots to food, travel, or pets.
You can also share a new photo matching the theme each day in your stories. You can add captions or explanations to make it more interesting. Also, try to encourage your followers to comment on or respond to your daily photos. Ask questions or invite them to share their own photos related to the theme.
These Instagram story ideas and execution methods can help you engage your audience, promote your content, and create a more interactive and compelling presence on the platform.
Use emojis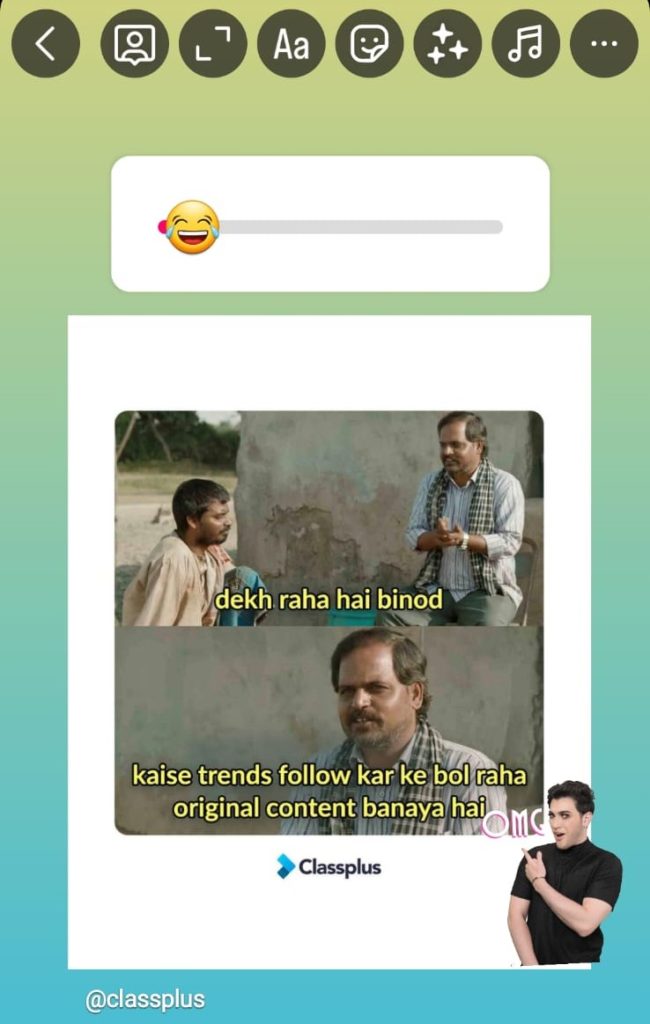 Emojis are a fun way of communicating with your audience. Too much information can be communicated in a simple as well as easier way with the help of emojis. Use emojis, it's free!
Place an emoji slider sticker on a question like, "How excited are you for this?" to gauge excitement levels.
Instead of putting a plain text on your story, use emojis to create captions or highlight keywords. For example, if you're posting about a delicious meal, you can use 🍽️👌 to describe it.
Use emojis in your stories to draw attention to specific elements. Using arrows or pointing fingers can also guide your audience through your content.
Express emotions or reactions with emojis. If you're sharing something funny, use laughing emojis or if it is something heartwarming, add relevant emojis.
In case you are traveling somewhere, you can use location specific emojis to make it more visually appealing.
Conclusion
So, these were the cool and trend Instagram story ideas for you to consider. In this world of social media, Instagram stories can be very rewarding for creators like you to reveal their creativity. We have covered the most engaging and doable ways to present your stories to your audience.
Whether it's running themed series, leveraging emojis, or engaging through interactive content, your stories have the potential to leave a lasting impact. Good luck with your stories!
Instagram Story Ideas for Content Creators FAQs
Q1. How often should I post Instagram Stories as a content creator?
A1. There's no specific time but consistency matters. Posting a few times a week or daily can keep your audience engaged, but quality should always come before quantity.
Q2. Can I track the performance of my Instagram Stories?
A2. Yes, Instagram provides insights on views, interactions, as well as for your stories. You can swipe up on your story to access the analytics.
Q3. What's the best way to maintain a catchy look in my themed series?
A3. Use consistent fonts, colors, and design elements, to create templates for your series and stick to a theme. 
Q4. Are there any rules when using emojis in stories?
A4. There is no defined rule to use emojis but using emojis that fit the context of your content is recommended. This helps in enhancing your message, and aligns with your brand's tone and personality.